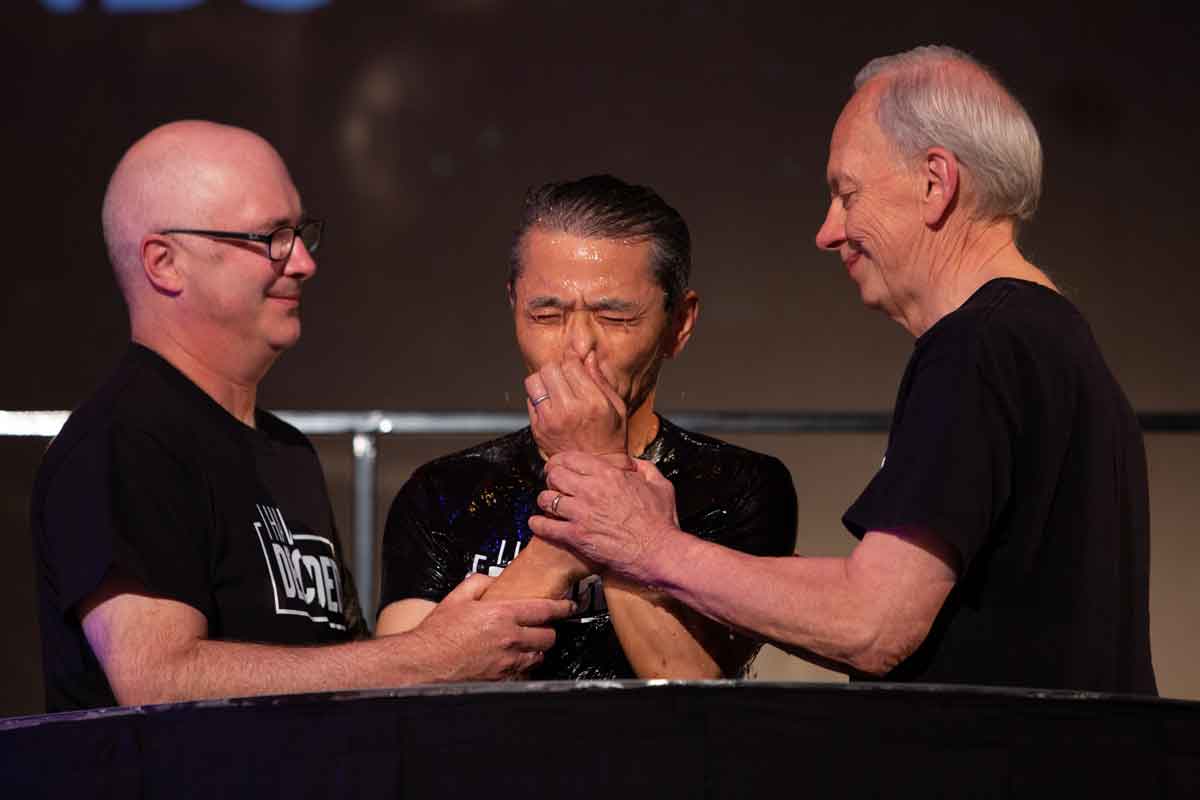 Yes to Jesus!
Baptism is a public declaration of saying yes to Jesus…and we had 12 individuals take that step in their faith journey during the July 23/24 weekend services! We love celebrating baptisms here at FAC, and we also love sharing our stories. Here are some amazing stories from those who got baptized last weekend!
RON MALLETT 
I didn't believe in much of anything but I knew there had to be something more to life. I saw how Jesus was changing the people closest to me and I wanted that peace and fulfillment for myself. The only way was to say yes to Jesus. I was only thinking about myself for so long and wanted to be more like Jesus. He loves everyone with an everlasting love. I have become more positive and understanding of people around me and love others as Jesus does.
Psalm 86:15 NIV:
But you, Lord, are a compassionate and gracious God,
slow to anger, abounding in love and faithfulness.

MICHEAL HARDY
Jesus has always been a part of my life. There was a time when that relationship was distant. Life was more turbulent during those times. Then, I started to hear His words.
He is everything in my life. He gives me strength, keeps me in check, my hero, and my leader. He has made me a much better man than I would've ever been if He was not in my life. God has laid out a plan for my life and when I follow His plan, all falls into place. Everything in my life is a blessing God has given me, and I thank him every day for those blessings.
He defied Satan. He died on the cross for me. I will spend my life being the Christian that Jesus wants needs me to become. The only way for that to happen is by following Jesus as He is the beacon that will bring me home.

NIKITA HARDY
I didn't know anything about God and Jesus Christ. I accepted what God has done by faith and receive salvation as a gift. I commit my life to following Christ. I want to be baptized to obey Christ's command, the one He gives us in Matthew 28: 18-20 NIV:
Then Jesus came to them and said, "All authority in heaven and on earth has been given to me. Therefore go and make disciples of all nations, baptizing them in the name of the Father and of the Son and of the Holy Spirit,and teaching them to obey everything I have commanded you. And surely I am with you always, to the very end of the age."

EMMANUEL OKORIE
I suffered from anxiety and a lot of uncertainty about the future and was constantly troubled about my choices. Jesus has brought me peace, stability and a certainty about my future
Galatians 2:20 NIV:
I have been crucified with Christ and I no longer live, but Christ lives in me. The life I now live in the body, I live by faith in the Son of God, who loved me and gave himself for me.
KATIE WINSOR
I grew up in a Christian home and was taught all about Jesus. Everything my parents taught me made me want to know and become closer to God like they were. As I grew older, though, I started to turn away from him. But He was always there and picked me up when I fell. That's when I realized that Jesus was my Saviour and I wanted him to be a part of my life forever.

OMOLOLA OMOTOSO 
I was born into a Christian family so I was a bit familiar with Jesus, but didn't have a personal relationship with Him until 2004. Prior to then, it was a religious activity for me and the concept of the knowledge of Christ was abstract. But on November 4, 2004, there was an altar call made in a crusade in Abuja, Nigeria. I felt a conviction in my heart which led me to make the decision to follow Jesus. Saying yes to Jesus has made a whole world of a difference: peace of mind, divine guidance and direction, abundant love as well a new perspective on life, just to mention a few.
Romans 8:38-39 NIV:
For I am convinced that neither death nor life, neither angels nor demons, neither the present nor the future, nor any powers, neither height nor depth, nor anything else in all creation, will be able to separate us from the love of God that is in Christ Jesus our Lord.

YIMING ZHOU
My life felt loneliness and emptiness, and the rhythm of the chaotic daily life led me to nowhere. From my beloved wife Cecilia and Pastor Ray Matheson, I learned first-hand what a Christian and Christianity were all about. As Pastor Matheson said, "This is a lifelong learning journey in God; we trust and we live with Him. Life will be fulfilled." I found a home for my soul and mind.
ARTHUR MADDEN 
Throughout my childhood into adulthood, I saw the light of God. I felt the power of Christ. I avoided commitment by asking questions but not by completing my journey to Christ as my saviour. One can only have hope when one opens their mind and heart to Jesus. I am excited to be baptized and share with all of you that I love Jesus, and He is my Lord and Saviour!

HANNAH DEELEN
Jesus has always been in m life as I have grown up knowing God. I have grown up in the church and became a Christian through my family. My life has never been without Jesus but after the difficult year, I have felt God more than ever. This year was hard as I entered a non-Christian community, it was different and I found myself turning and leaning on God more than I have before. I was dedicated as a baby and the reason I want to be baptized is because I am ready to tell everyone about God and who I believe in.

SANTIAGO GUTIERREZ
My life before Jesus was just walking in darkness and calling people bad words. My stepmom taught me about Jesus. I loved learning about Jesus and it felt joyful while reading the bible. I am more joyful, happy and being more kind.

SOPHIA GUTIERREZ
Before Jesus, I felt sad, lonely, and mad. I felt like I needed something before I met Jesus. I wanted to follow Jesus because my family and I were passing through a hard situation and I needed something that could give me hope. Now that I know Jesus, I am happier, kinder, helpful and thankful. I was baptized when I was small but I didn't take the decision to follow Jesus. Now that I am older, I have decided to follow Jesus.

VICTORIA WHITE
I have always believed in Jesus and was baptized as a child. But as an adult, especially in my early twenties, God showed up for me when I needed help more than ever.  I want to celebrate and renew my love and faith in God publicly.
You may also be interested in …