SHS Wednesday Worship
During the school year, SHS (Senior High Students) in grades 10-12 connect Wednesdays, 7:00-9:00 pm at the FAC Deerfoot campus (12345 40 Street SE).
Join us in the Student Centre (Gym) for worship, games, Bible-based teaching, and a chance to connect and grow with committed leaders and others in your grade in smaller group settings!
SHS resumes January 8.
Follow on Instagram for the latest: @fac.students  
What's Coming Up?
February 7-8: 403 Conference offsite at First Assembly Church (6031 Elbow Dr SW); cost: $45 (register online)
Friday, March 20: Event Night, 7:00 pm, Student Centre, FAC Deerfoot; cost: $5; watch for details TBA
Wednesday, March 25: No SHS (March Break)
Short-Term Missions
Twin Cities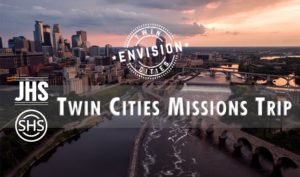 When: June 30-July 7, 2020
Who: Jr. & Sr. High Students
Approx. Cost: $1,200 airfare
Twin Cities is a short-term mission trip to Minneapolis/St. Paul, Minnesota in partnership with Envision for Jr. and Sr. High Students at FAC. We have partnered with Envision and their ministry in the Twin Cities.
Envision focuses on working with refugees through various ministries such as community gardens, English and citizenship classes, sports outreach, English tutors, and park ministry. As a team we'll get to work alongside the staff and volunteers at Envision to show Jesus' love to others (1 in 6 people in Twin Cities are first- or second-generation immigrants).
Interested or want more info?
Email Nathan Kinnie (Student Ministries SHARE Apprentice).
---
You may be interested in …