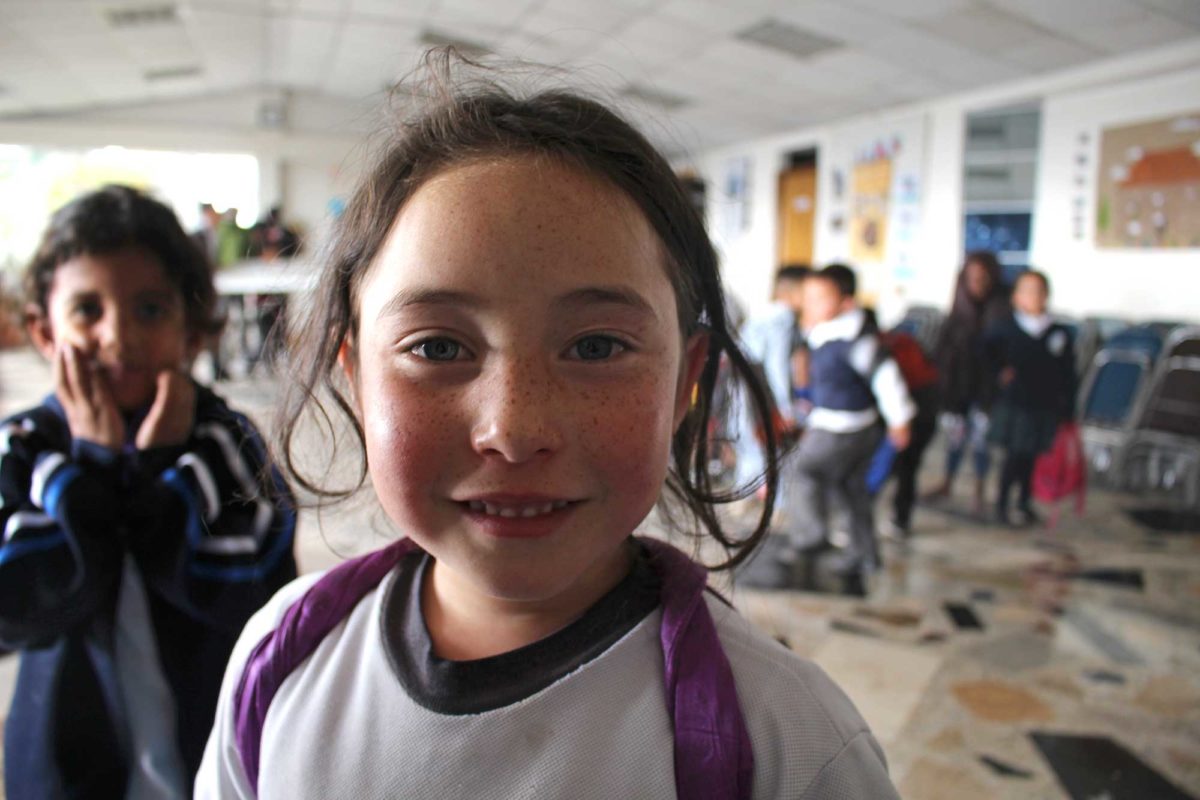 I had the pleasure of co-leading a short-term missions trip through FAC for the first time with Tiffany Ho to Colombia this July. In so many ways we did not feel prepared for the trip; there were times leading up to our departure when I asked God if this was meant to be. We didn't have the knowledge of the Colombian culture, our Spanish is sub-par, we had never traveled with this organization before, and we hadn't known everyone on our trip for very long … the doubts crept in while planning. But there was a still small voice reminding us that we had trusted God into this time of unknown and He was in control.
The team that God brought forward was "misfit," as my husband likes to call us. We came from a variety of life experience – college students, children, doctors, lawyers, couch surfers … singles, marrieds, families. The team ranged from 8 years old to 50-something. Not exactly uniform in our make-up. But God brought together 20 unique individuals for the task at hand. For whatever reason this was the aspect of our team that worried me the most – I had no idea what God was up to. How would a group like this relate while we shared God's love with others in Colombia … a place we'd never been … would we get along? But Tiffany and I took this to God through prayer.
We prayed throughout all of these unknowns, "If anything, God, let us be flexible and give us servant hearts." We needed to commit our trip into God's hands for His glory.
Our team met together before we left and began to spiritually prepare for the journey ahead. We spent time in prayer, practiced sharing our personal stories of knowing Jesus, and read about servant-hood. We had significant things we brought to God in prayer as well:
One team member broke her ankle and needed surgery early on, and we weren't sure if she would be able to come. But she trusted God and moved forward. I'm amazed to say she was fully mobile on our trip – and I saw God use her to show His unconditional love to kids in Colombia. Her attitude while we were there moved me, and I know she impacted lives for God! She still had pain – but God supplied her with all her needs on this trip!
Another team member wasn't sure if her travel visa would come in – the whole team was asked to pray for this process to go quickly. The visa came in the next day!
Another team member had major health concerns before departure. We prayed she would be healthy enough to travel. She was and had no issues on this trip. God is doing a healing work in her life!
These were all answers to prayer that we witnessed before departure.
The things we saw in Colombia were amazing! Our team of misfits was perfectly designed by God. Every single person on this team was so perfectly selected for this "unknown" task at hand. I'm ashamed to have thought the task was unknown – God knew what the plan was all along. This large team of 20 had very vital roles where their spiritual gifting or personal story was needed. It was a true blessing to see how God designed this team.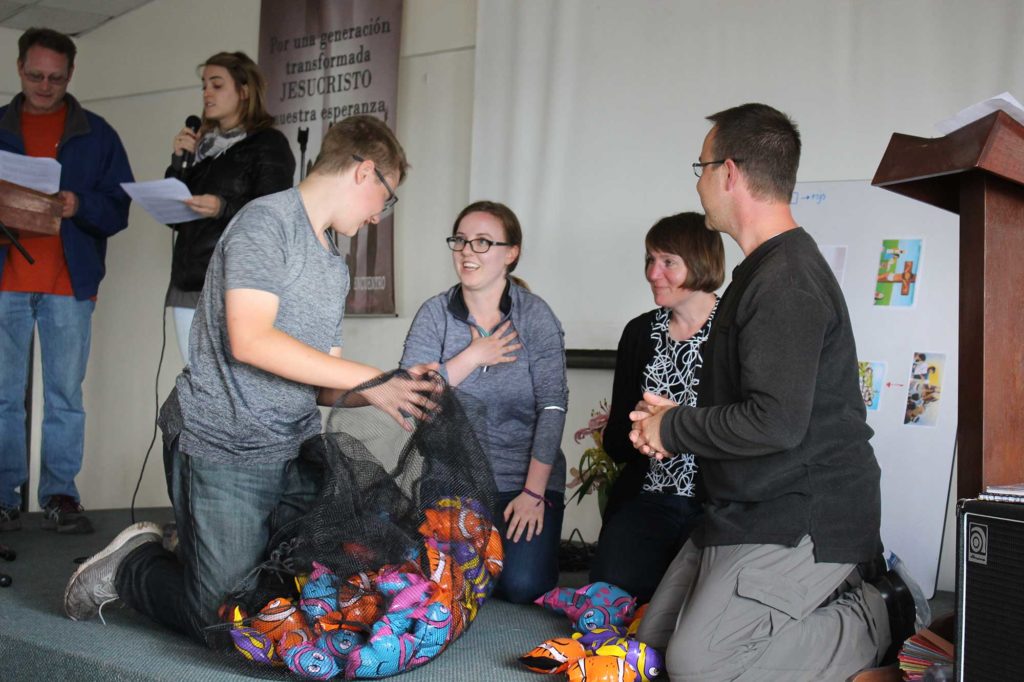 One example of this is that one member decided to write their own drama instead of using one that was already written. This was weeks before we left and we had no idea where these skits would be used. We weren't prepared to be with older kids and adults, but God already knew we would be sharing with this age group frequently, and this drama was particularly good for an older crowd.
We also ended up being part of a church service. We had no idea the sermon topic going in, and the church had no idea what our prepared dramas were; yet the pastor prepared a message on the miracles of Jesus … The drama our team member wrote was the healing of the blind man (pictured below). The two people who came forward in our group the night before and offered to present their stories the next day were two members whose stories were about healing! How insane is that?! The Holy Spirit was working in us and the Colombian pastor while we prepared separately. I think in that moment the all-knowing power of our God hit me. Our God is a God of all nations and He moved in powerful ways in Colombia!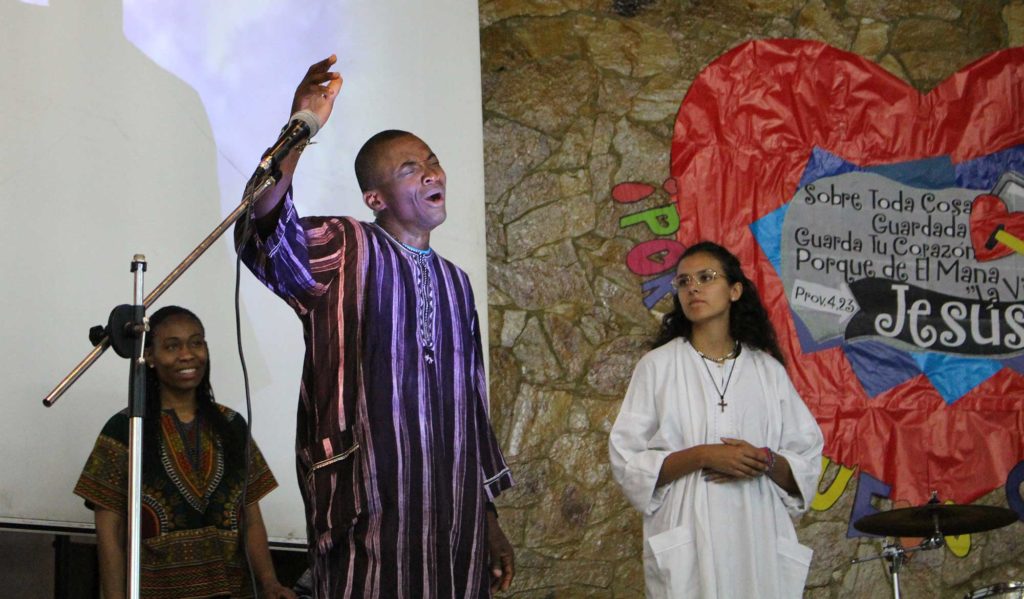 Inca Link workers Paul and Lineth Overmoyer sent out this prayer update from our time serving alongside them:
First Alliance Church of Calgary loves … outreach: in school, after school, and Sunday school. FAC brought the love and the passion to our Oasis after school program, the Colombo Sueco school, and the churches of July 20 and Victoria. The team came with a heart to minister the love of Jesus to others. They left with an even stronger desire to be a part of what God is doing in Colombia, having gained a true sense of community among themselves and the people they reached out to. It was a great joy for Lineth and I to share the week with this team of young professionals from Calgary. For many of them it was their first mission trip. We had the privilege of seeing them be used by the Lord as they stepped out of their comfort zones. Their skit acting was superb, outstanding crafts accompanied the message of the skit, and their testimonies demonstrated the grace that God wants to pour into each of our lives. What a blessing the team was to the children and adults they ministered to and partnered with!Their week involved skits, crafts, teaching English, hanging out. The message was shared through skits. Love was shown in the classrooms of a local school. They goofed around after school with the local children. They showed care in prayer. Ministry through hard work: The whole team painted a lobby, four Sunday school rooms, a stairwell, and a hallway in just a few short hours. Great Job!
There's More!
This is just a snippet of the things God did – our Colombia team and the three other short-term teams that went out this summer (to Greece, Moldova, and Austria) want to share more pictures and first-hand stories of God's amazing work!
Come to a Short-Term Missions Story and Dessert Night this Sunday, August 26, 2018 in the Harvest Rooms. All you have to do is sign up online and you'll enjoy a cup of Colombian coffee (from Oasis Ministry that we partnered with) and a plate of international desserts. Monogram Coffee will also be there for specialty coffee by donation in support of the upcoming Thailand team. This post is just a small taste of the stories – don't miss an evening to celebrate what God has done! See you Sunday night!
–  Briana Southerland (and Tiffany Ho)