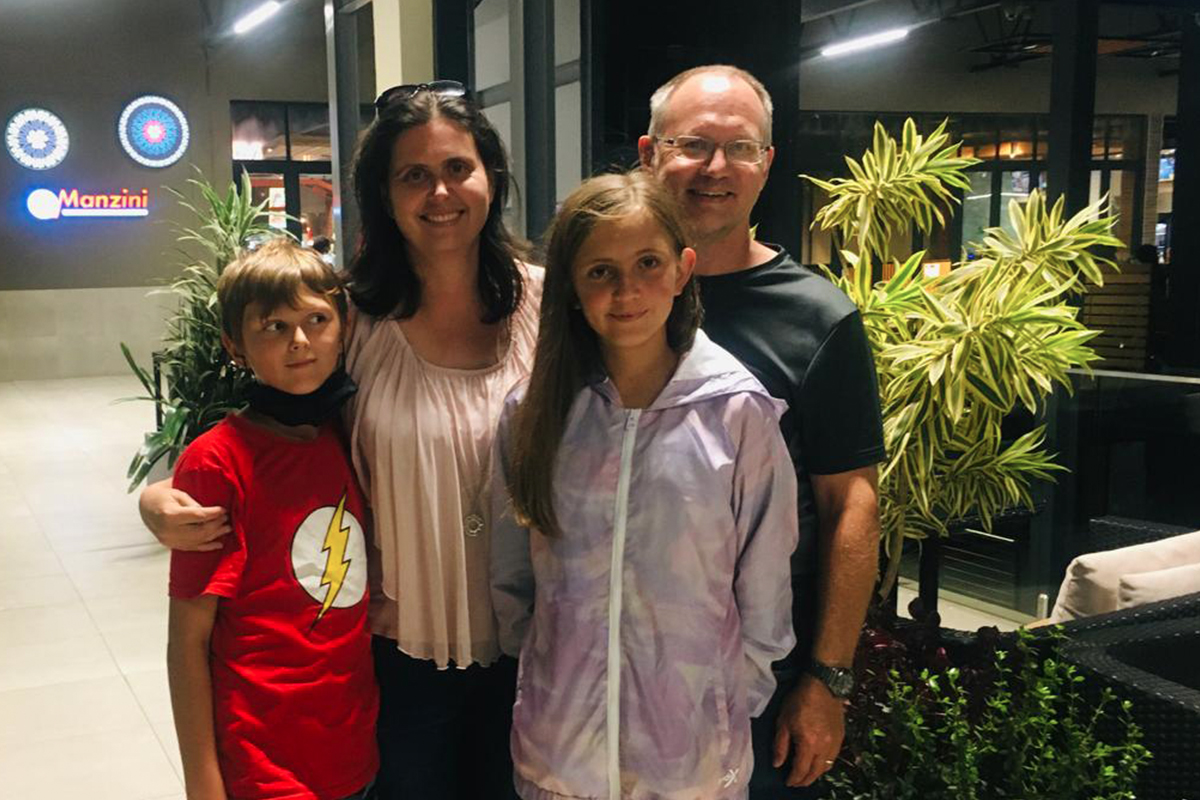 Greg Clarke grew up attending FAC with his family. He strongly felt God leading him towards missions at a young age. He responded by joining Trans World Radio (TWR) in 1995. This role was a great way to use his Electronics Technician degree from SAIT. After joining TWR, Greg worked for many years as a Studio Technician in Bonaire, Slovakia, and then in South Africa.
It was in South Africa where Greg met Ingrid while attending the same church in Johannesburg. They were married in 2005 and continued to serve with TWR. In 2013, they moved from South Africa to Eswatini (a place many of us know of as Swaziland). Since then, Greg has taken over the role of Station Director, while Ingrid uses her skills as the Finance Manager.
Eswatini has been experiencing serious unrest for the past year. During the riots in June and July of 2021, their children Caleb and Rebekah were stranded at a horse camp for two nights while Greg and Ingrid tried to find a way to get to them. All-access routes were blocked between them. Praise God that on the third day, just as the sun was rising, they were able to get to the camp and returned safely before the troubles resumed on the streets.
It was a difficult time for the children as they could hear the violence from where they were staying. It was a profound reminder of how we shouldn't take anything for granted—and how our International Workers need our prayers for every aspect of their daily lives. Below are some recent updates from the Clarkes:
We arrived in Calgary at the beginning of May. While we are here on furlough, the ministry continues in our absence. Our engineering team continues to pursue options for an additional antenna that will allow us to increase our broadcasts to East and Central Africa (the countries highlighted in green on the Map).

We were having problems with getting an unused antenna from a company in South Africa and were experiencing many delays in our discussions with them. We were then able to find another suitable antenna in the US and began to pursue that. We were not able to reach an agreement to get the US antenna, so we are back trying to move ahead with the South African option. We'd appreciate your prayers as we try to move ahead with this project.

We had an extremely interesting trip getting to Canada. We thought the hardest part would be travelling through four countries during the COVID pandemic, but that ended up being the easiest part of our trip. When we arrived in Amsterdam, we were told to have our hand luggage scanned again. As a result, we missed our flight to Canada. Amsterdam was experiencing staff shortages, and it took over 2 hours to clear security and get to our departure gate. The flight was also delayed, so we spent the night in the airport.

The following day, we flew to Edmonton and then onto Calgary. The kids thoroughly enjoyed the final leg of the journey on a Bombardier twin-prop plane. Shortly after we arrived, we had 20 cm of snow. I think our children were the only people in Calgary happy to see snow! They spent the morning having snowball fights and building a snowman.

School is almost done for Rebekah and Caleb for Grade 6 and Grade 8. They have transitioned well to their new school and it has been a great fit for our family. They are looking forward to a long Canadian summer break before we go back to Africa. It will be their first opportunity to go to the Stampede and experience Stampede week, including rodeos. We're all looking forward to it.

Please pray for God's provision of the right equipment for us. Please pray that God would grant us favour in the negotiations of these antennae. We'd appreciate prayer for our meetings over this summer and that we would be able to meet our support target.

We are grateful to be in Calgary for a time and look forward to seeing many of you over the summer.

– Greg & Ingrid Clarke, International Workers in Africa