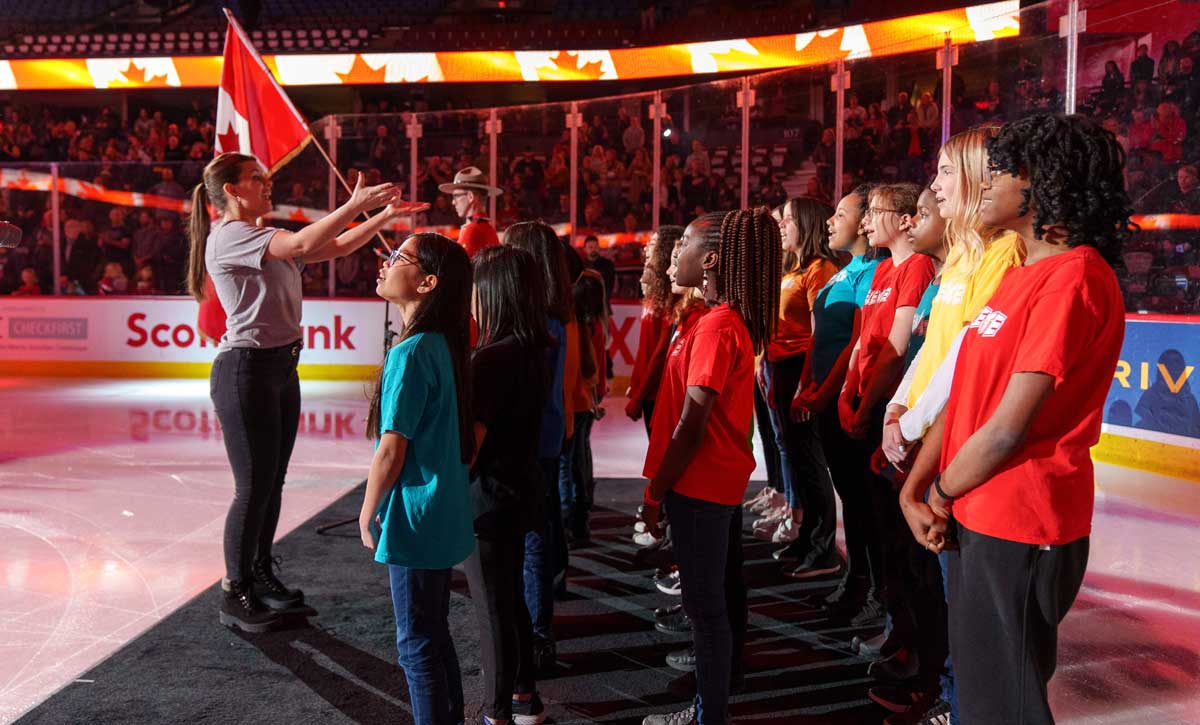 The Faith and Family Game
Some awesome things to celebrate, FAC family! Partnering with Shine 88.9 FM, FAC Music held a pre-game worship concert for the Calgary Hitmen vs. the Kelowna Rockets game on February 26. And that's not all: the Elevate! Kids Choir even got to sing the national anthem! It was a time when we got to gather, cheer on our teams, and worship together.
Olivia Whitaker, the Elevate Kids Choir Director shares a glimpse of the experience:
"I first began volunteering with Elevate! Kids Choir back in the fall of 2019. At that time, I was the piano accompanist (as well as co-host of a pretty memorable Christmas party) but in early 2020 the opportunity arose for me to move into director mode. I've been in this role ever since and have journeyed with the choir through some great musical experiences over the years.
The Saddledome event started with a phone call from Pastor Dave. I always chuckle when I see his name pop up on my phone because it almost always means that I'm about to have less free time for the next while – but in a good way. Honestly, this call was cool. I was sitting in my car eating french fries with my toddler (did you need to know that part?) while he told me that he had heard from Shine FM about an opportunity for FAC to provide music for the 2023 Faith and Family event with the Calgary Hitmen.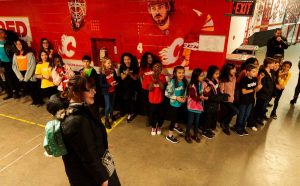 My first thought was that the kids would love it (and that I would too, haha!) so we should absolutely do it. My co-director and I got to share the good news with the kids in rehearsal shortly after that and the response was wild. Smiles and cheers all around!
It was a great day. Any time we go off campus the excitement levels are high within the group but this was a pretty special location so you can imagine.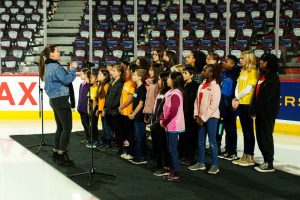 Being below the bleachers and lining up to walk onto the ice was pretty thrilling and I think I saw a few stars shining in their eyes as they took in the lights and stood next to the Mounties carrying the Canadian flags.
Of course, before the game even began we got to participate in the pre-game worship concert with other members of FAC Music, which was a blast as well. There was a strong turnout for this event and the choir was excited to be singing alongside Pastor Dave and the other adults that made up the band.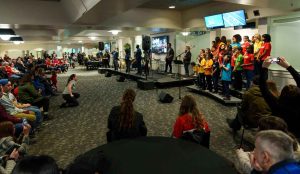 There are often some nerves involved for them when performing, and usually a lot of 'hurrying up and waiting' until it's 'go time', but the choir is learning how these things are all a part of the experience.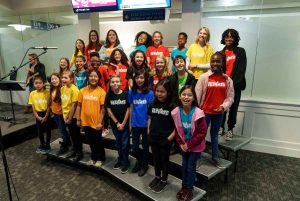 The main consensus from the choir was that the event was "awesome". Some said they loved being on the ice the most, others said that eating snacks and watching the game was the best part.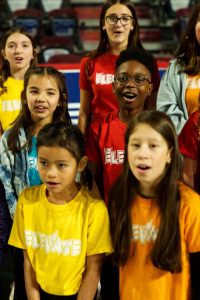 But when asked if they enjoyed the opportunity to sing about Jesus for their community there was a strong resounding 'yes'! I'm honestly so pleased for what this choir has been able to achieve and participate in over the years.
Between summer camps, recording original music, providing vocal tracks for local artists, singing for holiday services, or leading worship, these kids are able to work on their musical skills while also building friendships and a stronger relationship with Jesus. I've seen it happen and it's the coolest. God is good and I love what He is doing in and through the music at FAC."
Do you love to sing? Do you play a musical instrument? Is your child in grades 4-7? If you would like to get involved in the musical expression of FAC or would like to check out the Elevate Kids Choir, contact Gillian.