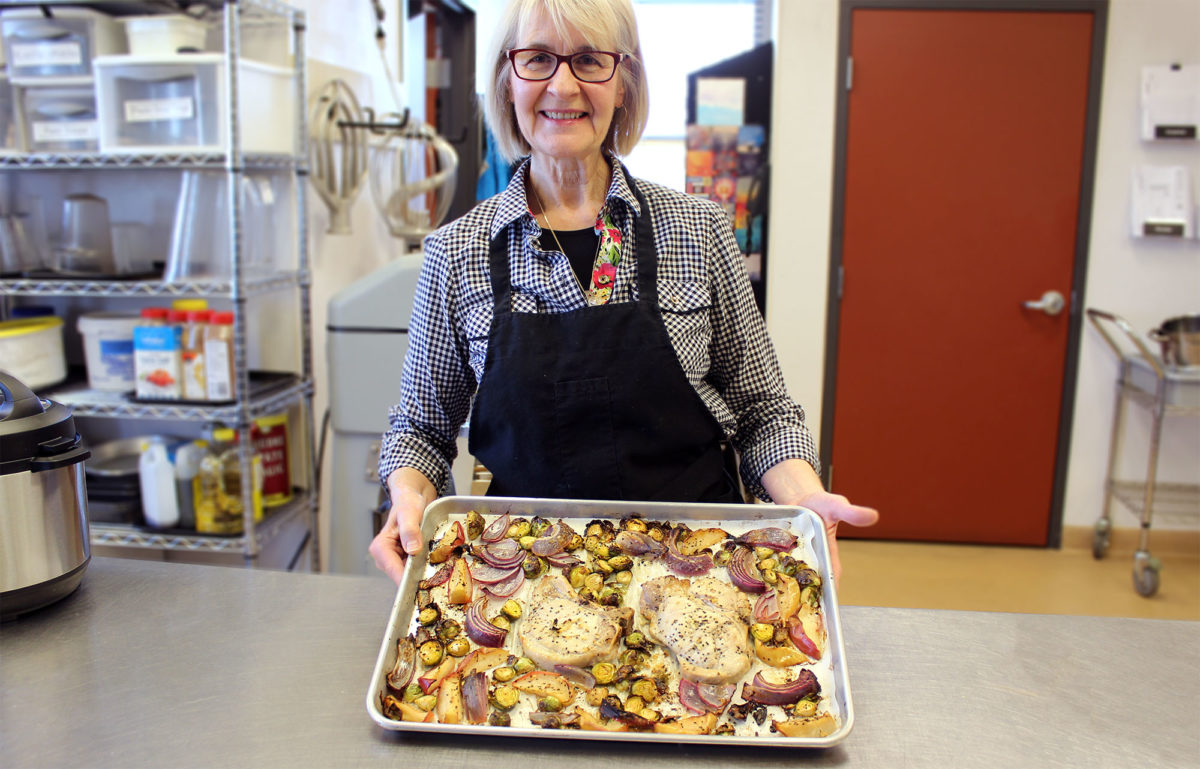 It's the time of year when we all start craving home-cooked comfort food, isn't it? If you're looking for an easy, SUPER-yummy, gluten-free, dairy-free winter recipe, this is it. Seriously. We recently asked Gail and Sterling Hunter from Harvest Culinary Ministries if they'd be willing to share some of their tried-and-true recipes on the FAC blog, so here's a few to try. With minimal ingredients (and dishes!), you can easily be sitting down to mouth-watering, savoury pork chops and beautifully roasted winter veggies.
Lemon Garlic Pork Chops Sheet Pan Dinner
Here's What You'll Need …
5 tablespoons olive oil, divided
juice of 1 lemon
4 garlic cloves, minced
kosher salt
4 bone-in pork chops, about 1 inch thick
1 large Fuji apple, cored and cut into 8 wedges
1 pound Brussels sprouts, halved or quartered
½ large red onion, peeled and cut into 6 wedges
fresh ground pepper
(Serves 4)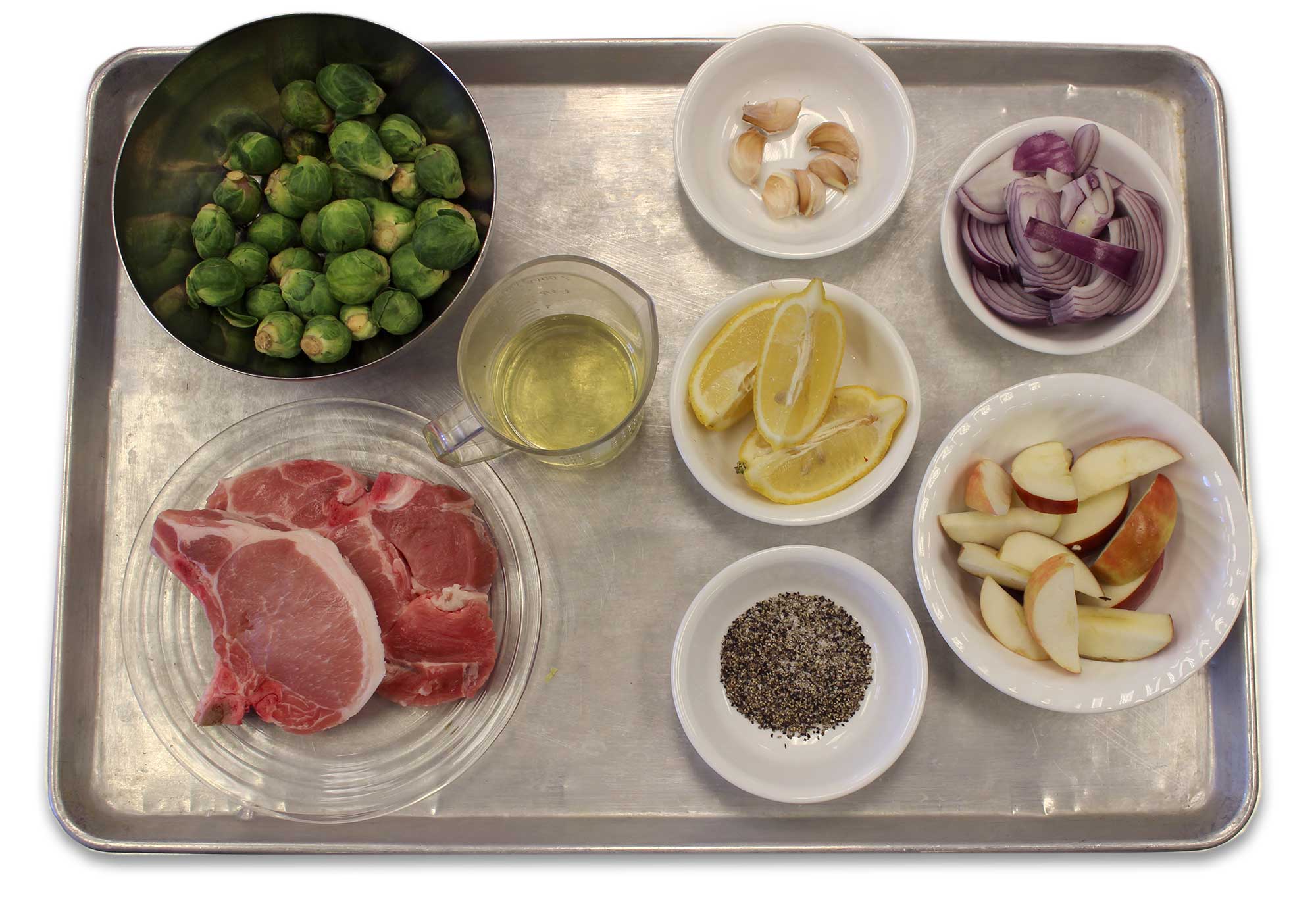 How to Make It
Preheat oven to 450 F. In a large bowl, combine 3 tablespoons olive oil, lemon juice, garlic, and 1½ teaspoons salt. Mix well and throw in pork chops to coat well.
Line a large rimmed baking sheet with parchment, and arrange the coated pork chops on the pan.
Toss apple wedges, Brussels sprouts, and onion into the bowl with the remaining 2 tablespoons of olive oil and more salt.
Spread the veggies in an even layer around the pork chops.
Grind some fresh pepper on top. Make sure everything is in a single layer.
Roast for 12 minutes or until pork chops are cooked through.
Turn oven to broil and cook for an additional 3-5 minutes until pork and veggies are browned. (See all those black bits that look burnt? Have no fear! That's pure melt-in-your-mouth roasted veggie goodness.)
Serve … and enjoy!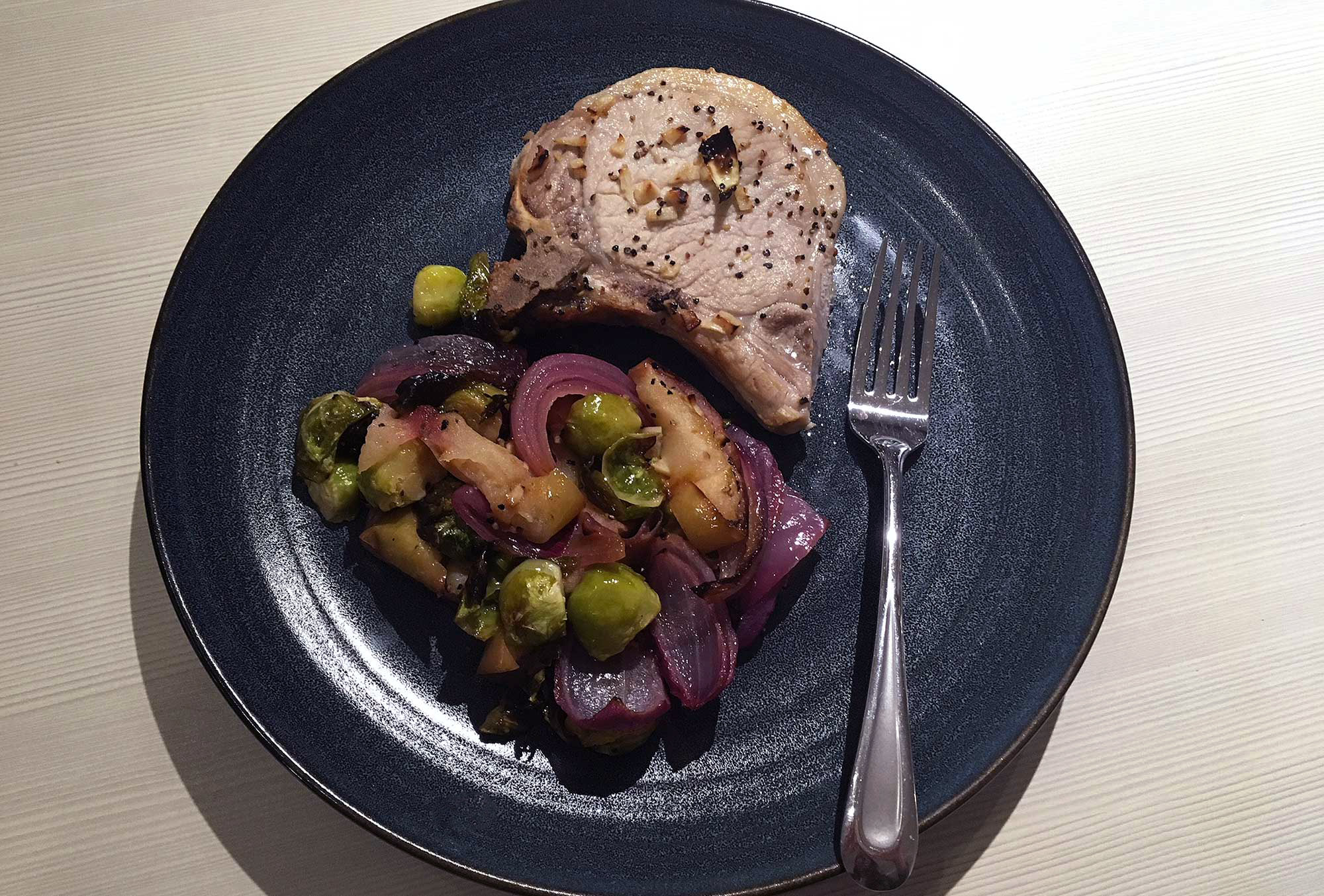 Next Steps
If you love this lemon garlic pork chops recipe as much as I think you will (don't tell anybody, but I literally licked my plate clean when I taste-tested this for Gail), why not share this recipe with a friend – or better yet, invite your neighbour over for pork chops?
Learn more about Harvest Culinary Ministries and how you can meet new friends and get involved at FAC by volunteering with this amazing team.
Recipe by Gail Hunter; written by Julie McPhail