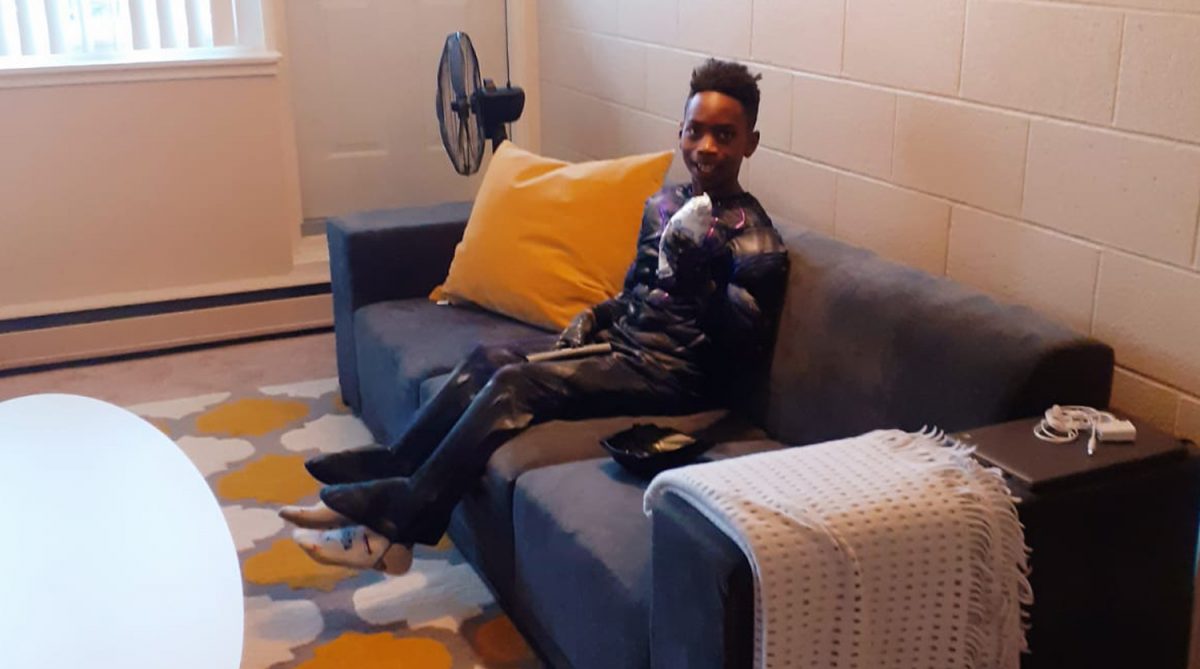 It's truly amazing when we can look back to see how God has orchestrated something beyond our expectations. This is a 2-sided view of how God called one FAC volunteer to step out to serve in a new way – and how her obedience to serve came at a time of desperation for another in our city.
Julie's Story
"2020 was a really disappointing year for me. I had worked really hard on a project which involved marketing and sales of condo units for a developer; they decided to go another direction and use a new group to sell out the project. I was left with a lot of furniture and not a lot of time to source out a new work opportunity to use the show home furnishings.
I was so sad, frustrated, and hurt by this experience that I wanted to do some good with the extra that I had; I suppose I wanted to offset my own pain by trying really hard to make someone else feel good. That's when I called FAC and asked if there was anyone who needed a home make-over. I was introduced to a single mom coming out of a homeless shelter with her 2 children. Using the extra items I had, we turned a cinder-block apartment into a comfortable home. This mom lived in a shelter for months during COVID with a new baby and 9-year old son; she prayed continually for God to help her. God heard her and He sent me – I was His hands and His feet. Through this experience I gained a new friend and I am able to walk alongside another mom. We help and pray for each other. I can declare that it is a greater blessing to give than to receive."
Havie's Story
"I must say that reading Julie's story brought tears to my eyes. The major reason is because I had no idea of the background story that Julie just shared. I look back and remember the dedication and absolute love and support she put into this project; how she gave my children and I the best treatment one could ever ask for. How she took note of every detail, even the ones I didn't even remember.
She not only beautified my home; she shared herself and her family with mine. She gave me renewed hope in the abundance of love in Christ Jesus and for this I am forever grateful. Meeting and knowing Julie is one of the best gifts 2020 gave me and I have FAC to thank for this. My prayer for you always is that God may continue to strengthen you and grant you the grace to do His work on earth because you are the definition of an earthly angel. Thank you once again, Julie, for being a friend and sister. God bless you.
Briana/FAC, you are a huge blessing to me and my family. We will remain forever grateful for your help, compassion, and support. God bless you richly."
God hears our prayers and uses us to bring hope. Julie loved using her gifts and talents to serve this family … and from an outside perspective it was truly amazing to see the timing in all of this! Julie has helped other families during this difficult COVID season and she serves in a way that restores dignity, brings the hope, and shares the love of Jesus Christ in a way that is truly unique to the way God has wired her.
Discover how you can use your unique experiences, skills, and passion to serve others through FAC by taking the free online S.H.A.P.E. test. At the end, it'll ask you to include the email address of your church leader to share your results; put in: shape@faccalgary.com.
Briana Southerland serves as FAC's Share Ministries Pastor, and is passionate about partnering with organizations and individuals and mobilizing volunteers to be part of bringing the hope of Jesus to people here in Calgary and around the world. Visit Give Back to learn more about serving locally and globally through FAC!