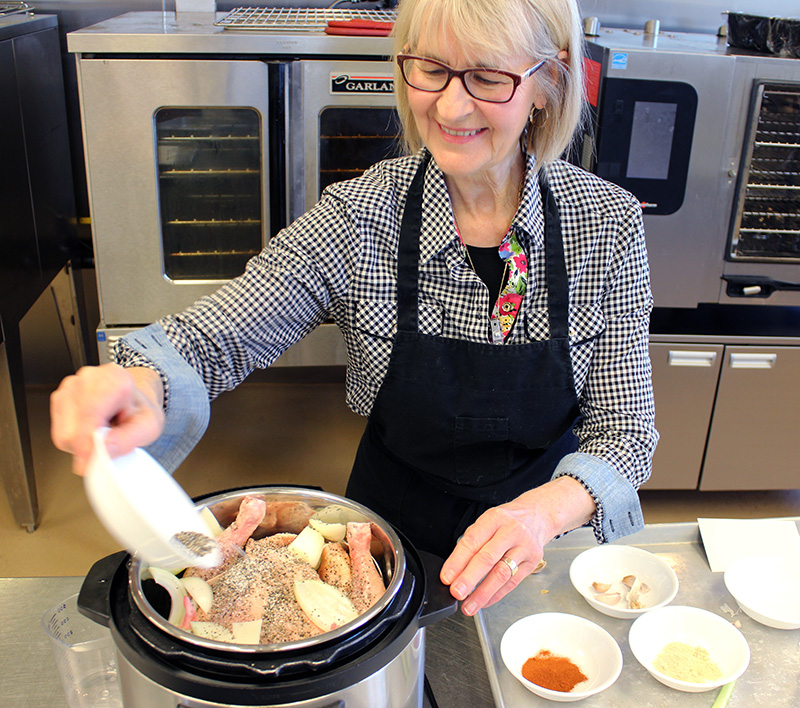 An Easy Meal to Share
Whether you're trying to eat healthier this January or not, chicken is often a go-to protein. And, if you're like me, you've probably stared into your freezer, wondering when you're ever going to get to that frozen whole chicken sitting in there … Here's an Instant Pot recipe courtesy of Gail Hunter from Harvest Culinary Ministries that will turn that frozen block of bird into a delicious dinner in no time …
What You'll Need:
1 frozen chicken (hopefully the giblets/neck have been taken out before you froze it)
1 ½ cup chicken stock or water
avocado oil
salt and pepper
onion powder
garlic powder
garlic cloves
smoked paprika
Instant Pot Whole Chicken: How to Make It
Put your chicken stock or water in the bottom of your Instant Pot. Then place your frozen chicken in the bottom (either on the trivet, or right on the bottom – it doesn't matter).
Drizzle a little avocado oil over the chicken, then liberally sprinkle spices all around your chicken.  Then sprinkle the top with my new favorite spice – smoked paprika – which is totally different from regular paprika! It gives not only a yummy taste, but an amazing colour to the top of the bird.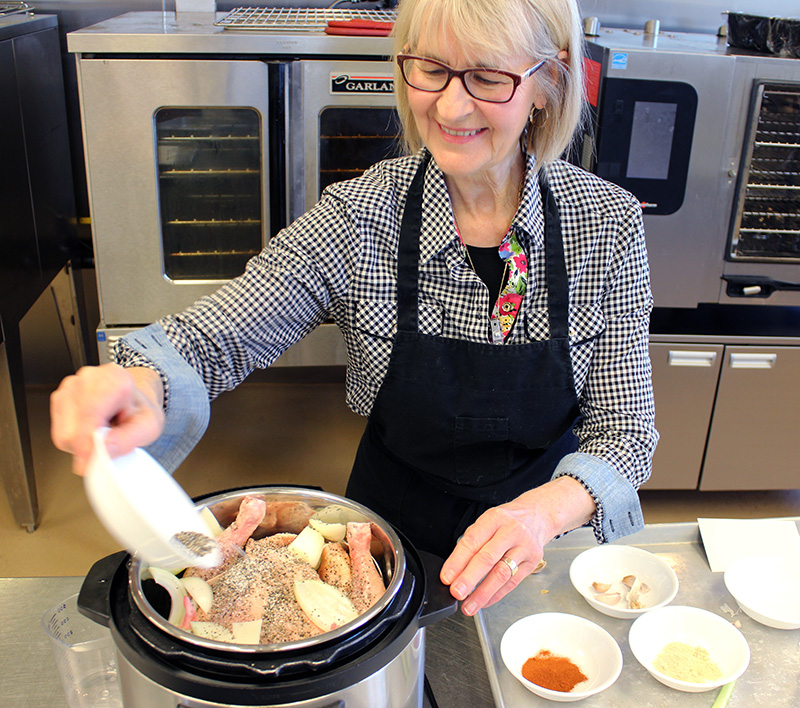 Close your Instant Pot, put the knob to "seal." 

Frozen chicken cooks at 6 minutes per pound

, so you'll have to know the weight of your bird to set your time. Round UP the time if you're not sure, or if you don't have a scale.

(For example, a 3-lb. frozen chicken will take 18 minutes, a 4-lb. frozen chicken will take 24  minutes, etc.)
Put on "Manual" mode, set your time, … and let it go! And don't worry … it'll take about 10 minutes to get up to pressure (remember, it's frozen in there!)
When your timer goes off and beeps, choose Natural Pressure Release to let the juices settle and to continue cooking for a bit. Then, after about 10 minutes or so, fully release the pressure, carefully take the lid off, and you'll have a wonderful, succulent, yummy chicken for dinner, or for salads, etc.!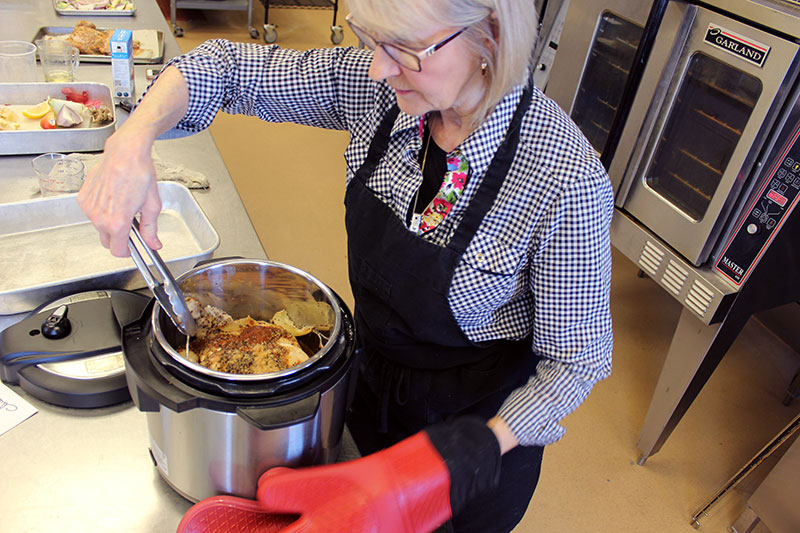 Please note, this may not exactly be an Instagram-worthy looking bird when it's done … but just remember – you were staring at a FROZEN CHICKEN just 40 minutes ago, and now you can eat!!! However, if you want to make it a little more pleasing to the eye (and add a little extra flavour) you can crisp up the skin by taking the chicken out, placing it into an oven-safe dish, and popping it under your oven broiler for 2-3 minutes to brown.
TIP: If you want gravy, just use the stock in the bottom of the pot (see below), and whisk in either a flour or cornstarch and water slurry; set your Instant Pot to "saute" to thicken.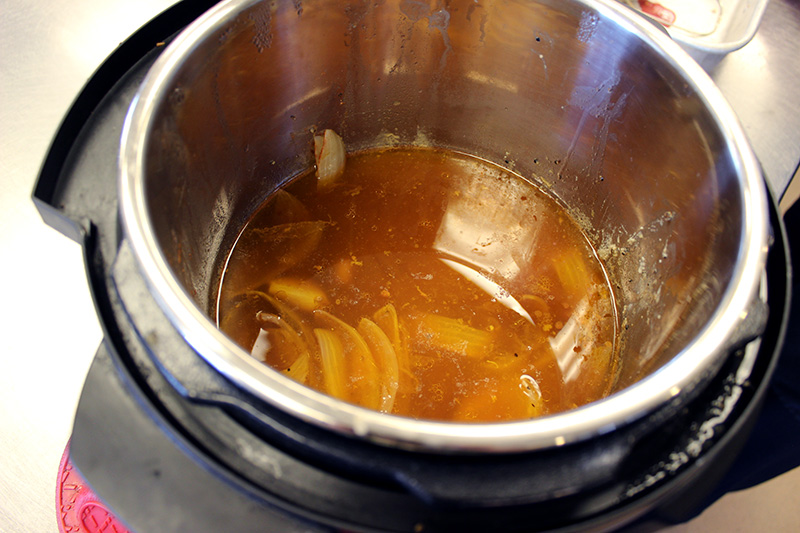 Add an easy salad mix and some buns or mashed potatoes as sides, and boom! You've got yourself a complete meal. Don't have an Instant Pot? No worries … this can easily be adapted for a slow cooker; just check correct timing for slow-cooking a frozen chicken (thanks, Google).
Why not share this recipe with a friend – or better yet, invite your neighbour over for dinner?
Learn more about Harvest Culinary Ministries and how you can meet new friends and get involved at FAC by volunteering with this amazing team.
Recipe by Gail Hunter; written by Julie McPhail