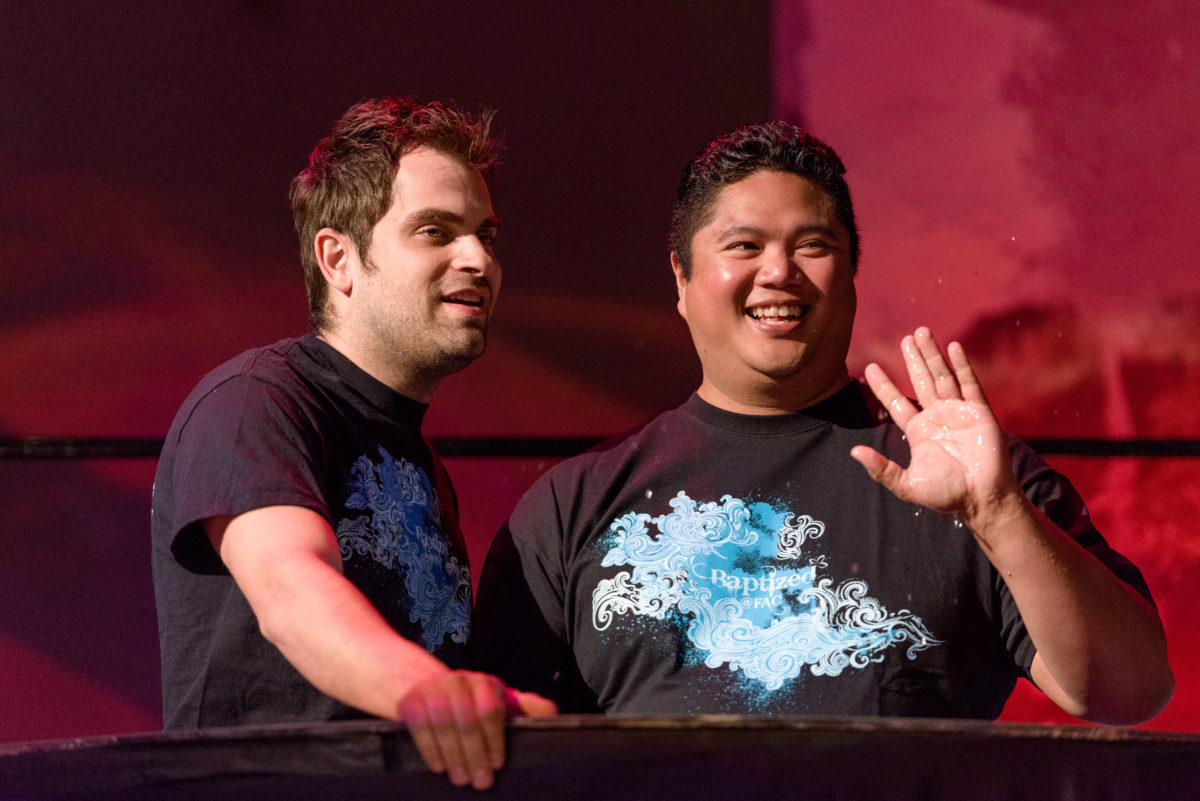 Baptism is a thing to celebrate as people publicly declare their decision to follow Jesus with their lives! Here are a few of the stories of people baptized this month at FAC.
Gene Lachica
At my lowest point, I was mourning for my dad who recently passed away, was laid off from work and feeling extremely alone. At this point, I had no relationship with Jesus, but the Lord brought changes into my life that gave me the strength to live for something more than just myself. After I met my fiancée, she helped me to realize how Jesus was working in my life and providing me with the opportunities to better myself. I have begun Life on Life discipleship and am discovering my purpose and learning to be a better person. I no longer feel alone, I have a job where I can help people and I feel a focus and meaning in my life I've never felt before.
Natalie Bergman
At my darkest days HE was my only light.
Igor Shirokiy
The Bible tells us that Jesus is God in the flesh, God in human form. Jesus Christ is God, the Creator, the sovereign Lord. I receive God's offer of forgiveness and place my trust in Jesus Christ for salvation. I accept Jesus as my personal Saviour.
William Smith
I have decided to re-commit to following Christ as I was baptized as a kid. My life before deciding this has been filled with over-emotional outbursts and swearing and a sarcastic demeanor. I came to know Jesus when I was young and have gone back numerous times. I have made the decision to stop making excuses and live the life that Christ has set up for me. I also have been feeling a call for service in the church.
I am so blessed beyond what I deserve. Jesus has helped soften my heart and help with swearing.
My favorite verse is Philippians 4:13 – "I can do all things through Christ who strengthens me." I moved away from home at 18 years of age and my mom gave me that verse on a bookmark. When I struggle with a worldly pull on my life, I recite the verse and it helps.
Antonio Rampola
I was introduced to Jesus by my teacher at the age of 12. Ever since this time I have hungered to know Him. At this point in my life I have found what I need and it is for Him to be in the centre of it.
Emily Main
I gave my life to Jesus when I was very young. I was born into a loving family who showed me the love of Jesus, and brought me to places where I could learn more about Him and His love (church, VBS, etc.).
As a Christian I know that I'm never alone and I always have someone who loves and cares about me. When I was younger (about 4) I knew I needed His forgiveness and His love. When I was a little older I decided to re-affirm this decision at a Christian camp.
Because the Bible says baptism goes along with salvation, I feel baptism is the next step in my journey with Christ.
——————————————————————————–
Follow @faccalgary on Facebook or Instagram for more baptism photos from July 13/14!
Next Steps
Baptism is a one-time, public declaration that shows you've accepted Jesus Christ as your personal Saviour. The next baptism weekend at FAC (First Alliance Church) is September 21/22, 2019.
Want to know more about getting baptized? Contact Pastor Heather Brown, or join us for the Preparing for Baptism evening info session.