Connect & Play at Discovery Park!
Looking for an indoor play place in SE Calgary? Located in the South Atrium at the FAC Deerfoot Campus, Discovery Park offers a fun indoor play structure for ages 3 (potty-trained) through Grade 4! Please read and go over the rules with your child(ren) before play. Hours and pricing are listed below.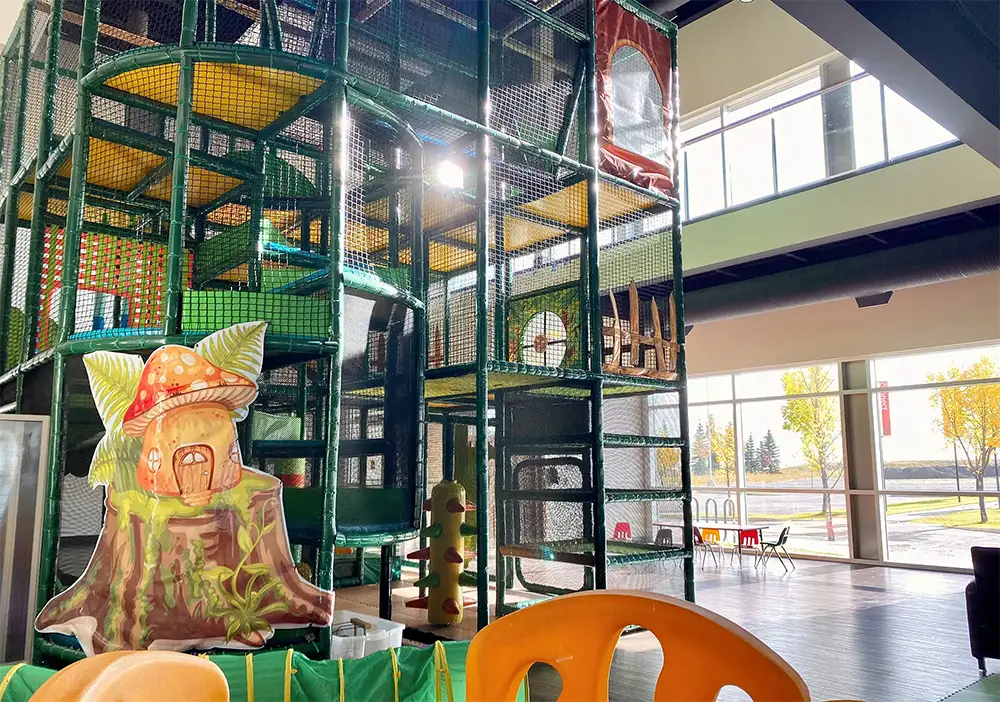 Play Place Hours
Saturdays, 5:15-6:15 pm & 30 min. after 6:30 pm service (FREE!)
Tuesdays, 11:00 am-2:00 pm*
Wednesdays, 11:00 am-2:00 pm*
Thursdays, 11:00 am-2:00 pm*
*A $5 per child entry fee will be charged Tuesday-Thursday to cover the cost of supervision (cash, credit & debit accepted). Entry remains FREE on Saturday nights.
NEW! Evening Holiday Drop-Off
Need a little extra time to get through your Christmas prep? We've got you covered! Discovery Park will be open 6:30-8:30 pm for supervised drop-off playtime on the following evenings, for children 5 yrs. old-Grade 4; $5 per child (up to $20 per family):
Thursday, December 7
Friday, December 8
Thursday, December 14
Friday, December 15
NOTE: The Bistro will be closed; no food provided.
Birthday Party Bookings
Available upon request; please get in touch with Wendy Nilsen to book:
Parties of up to 10 children include use of the Play Place and your choice of hotdogs or pizza, chips, and drinks for $150. (Any additional children will be an additional $15 each).

Your child's safety is our #1 priority, so we do have onsite adult supervision and also some rules for Discovery Park! Please read and explain these rules to your child(ren) before they play:
If your child is sick (exhibiting cold or flu-like symptoms), please don't allow them to play in Discovery Park to protect the health of others.
Shoes off, socks on! Please have your children remove footwear before entering Discovery Park.

NO bare feet or shoes allowed

.  Socks are available for purchase at the Bistro.
Adults are not allowed into the play structure unless a "rescue" is required. If your child is not able to use the play place independently, then he/she is too young.
The play structure is for ages 3 years (potty trained) up to Grade 4 only.
Maximum 35 children allowed at a time.
On Saturdays, please respect a 10-minute time limit to allow other kids to have turns.
NO food, drinks, gum, toys, or electronic devices in the play area.
NO hitting, pushing or ANY unsafe play.
Parents/Guardians must stay within the South Atrium while their child(ren) are in Discovery Park, and you must accompany your child(ren) to the washroom.
Parents/Guardians acknowledge that your child(ren) play at their own risk.
NOTE: While every consideration has been given for safety and convenience, First Alliance Church is not responsible for injuries or lost articles.
---
You may also be interested in …