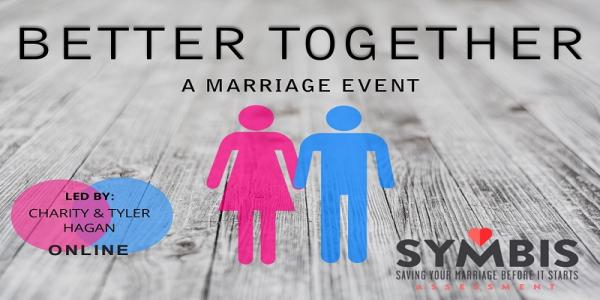 BETTER TOGETHER – A MARRIAGE EVENT
Saturday, February 6, 2021
9:00am to 3:00pm – via Zoom (link will be sent closer to the event date)
We are so excited to offer "Better Together – A Marriage Event".
Every good marriage can be great. Every great marriage can be even greater. In order for our marriages to be the best they can be, they require tools, training, and time together.
We invite you to join us, Tyler and Charity Hagan (SYMBIS Assessment Certified Facilitators), for a great day of fun, insightful teaching, and practical tools that will help you and your spouse to grow into the marriage that God desires it to be. This event is designed for anyone! Whether you've been married less than a year, or you've been married for 40 years, you'll be glad you came.
The price is $50/couple.
Event registration deadline is Sunday January 31, 2021.
**PLEASE BE SURE TO INCLUDE YOURS AND YOUR SPOUSE'S EMAIL IN THE REGISTRATION**
SO WHAT IS SYMBIS?
The SYMBIS and SYMBIS Assessments gives you a personalized road map to making your marriage everything it was meant to be. It has been developed by Drs. Les and Leslie Parrott through years of research and studies. Les is a professor of psychology at Northwest University and they are founders of the Center for Healthy Relationships on the campus of Olivet University. Leslie is a marriage and family therapist. Each couple who registers for this event will be sent a unique link to complete their own SYMBIS assessment. Couples complete their assessments individually, and then their results are combined and emailed. We'll spend a good part of our event helping you to unpack your results.
Register for this event