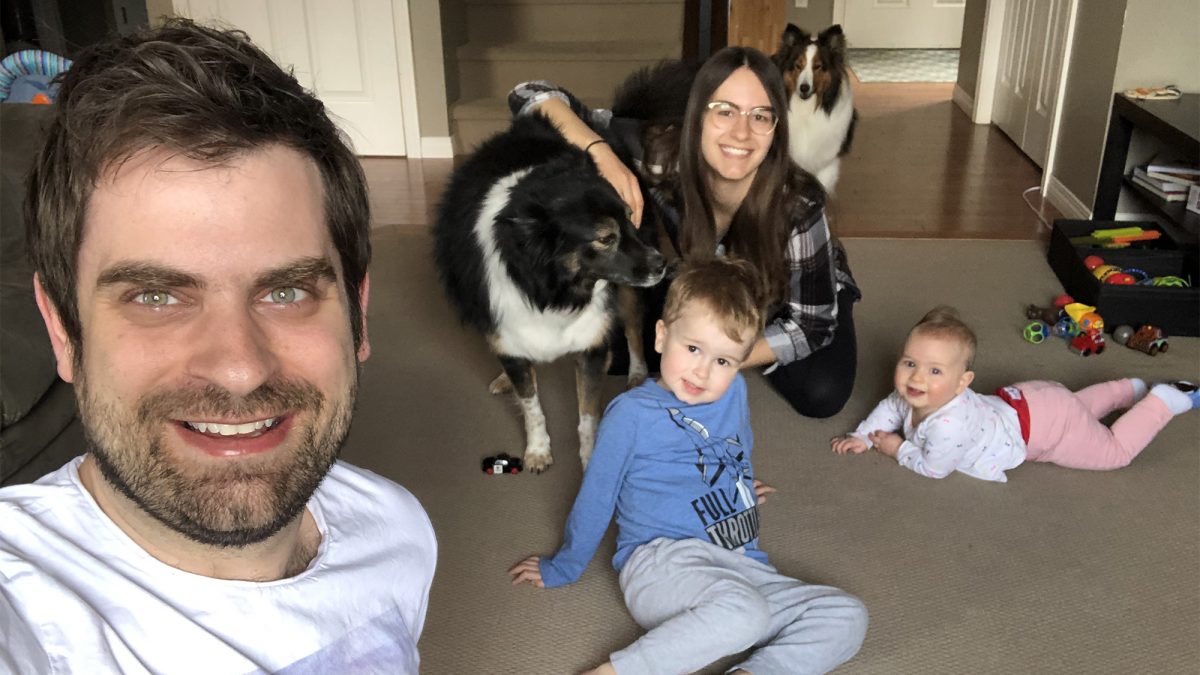 Decades ago, I was a teenage kid, probably doing things on the internet I shouldn't be doing … broken, searching for something (which feels like an opportune moment for God to show up) … when I stumbled into an mIRC chat room. It was probably called "#wwjd" or something like that. I found my way into a private chat room for prayer, needing something from God. In this chat room, I opened my heart to a stranger – I opened my heart to God. I sat at my keyboard, tears rolling down my face, broken and wanting more of God. This stranger – from who knows where – prayed for me. God reached across the internet to speak to me. God showed up. Here is where online ministry started for me. I was a kid, searching for answers, and found Jesus online.
Who knew 2 decades later God would call me into the world of online ministry at First Alliance Church? In June 2014, I started an online Facebook group consisting of First Alliance Church staff and, of course, my mom. Moms are always the first to believe in you! Since then, online ministry at FAC has become a thriving community of people all over the world, learning what it means to build lives that honour God – all for Jesus!
Go and Tell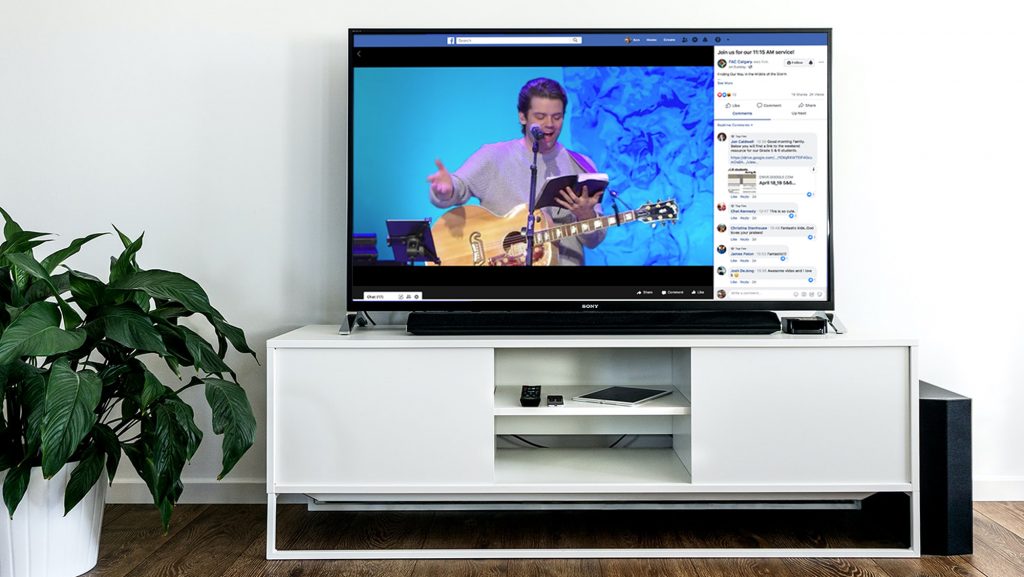 Not only has my experience as a kid fueled my passion and desire for online ministry … I'm also overwhelmed by the sheer opportunity to spread the Good News of Jesus around the world. FAC Online is a community of people all over the world experiencing God and connecting with one another like never before in history. We're a global community of FAC who connect, grow, serve, and share what Jesus is doing in our lives using technology.
"But how can they call on him to save them unless they believe in him? And how can they believe in him if they have never heard about him? And how can they hear about him unless someone tells them?" (Romans 10:14)
We're telling people about Jesus, and technology is our tool. Our Online Campus is serving as a way to help build relationships with people all over the world. It gives us an opportunity to help build lives that honour God regardless of where our physical campuses are located. Jesus said "Go into all the world and preach the Good News to everyone" (Mark 16:15) – and friends, we can do that – and it's becoming really simple. Our world is online, people are online; and we now have a wonderful opportunity to connect with people all over the world and help them discover Jesus.
Technology has allowed us to multiply our influence in extraordinary ways. Over the past year, people in more than 54 countries connected with our church services via live stream or broadcast. Jesus has given us this opportunity to reach the world with the Good News. We have friends in Australia whom our online team could support and encourage spiritually during the wildfires. We have FAC regulars who join us from across Canada, into the States, and all around the world. Discipleship is happening online via Zoom … Where once a great distance made it difficult to connect, now it's no problem.
We thought the printing press was revolutionary … My friends, we're in another revolution.
Doing Life Together – In Spite of Distance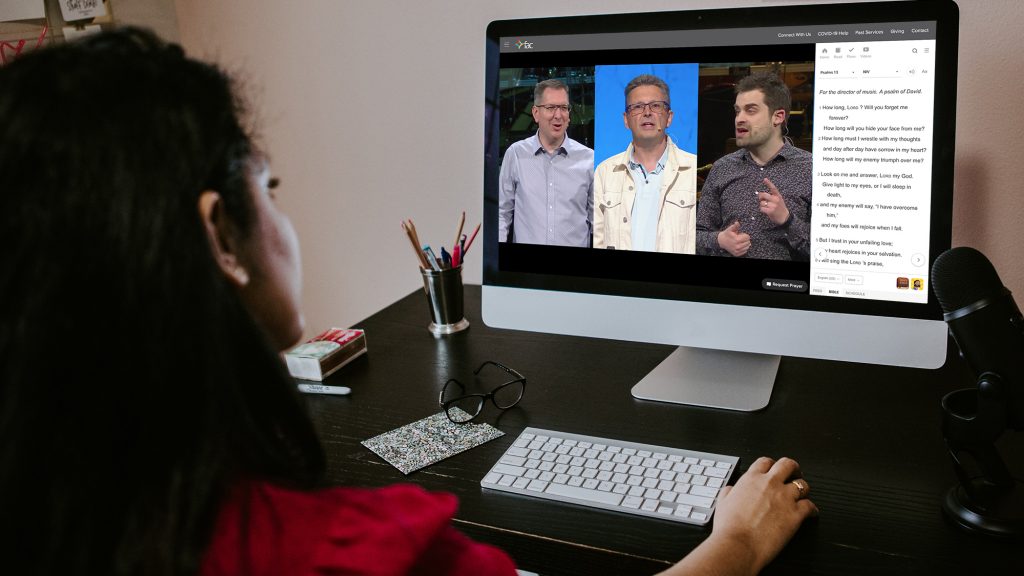 And it's not just about broadcasting the service; we have the ability to connect with people – connect with each other every day of the week via the internet. We can pray, support, and encourage one another as we journey through life. The church is online, people are online, and my desire is to help people connect with each other and with God. We can be the hands and feet of Jesus in real and practical ways online. All for Jesus!
Now we can meet with a group of people online to develop relationships and explore what it means to follow Jesus together. Using technology, we can make it easier than ever to experience community using online platforms. Join an online small group today!
FAC Online – Weekends and Beyond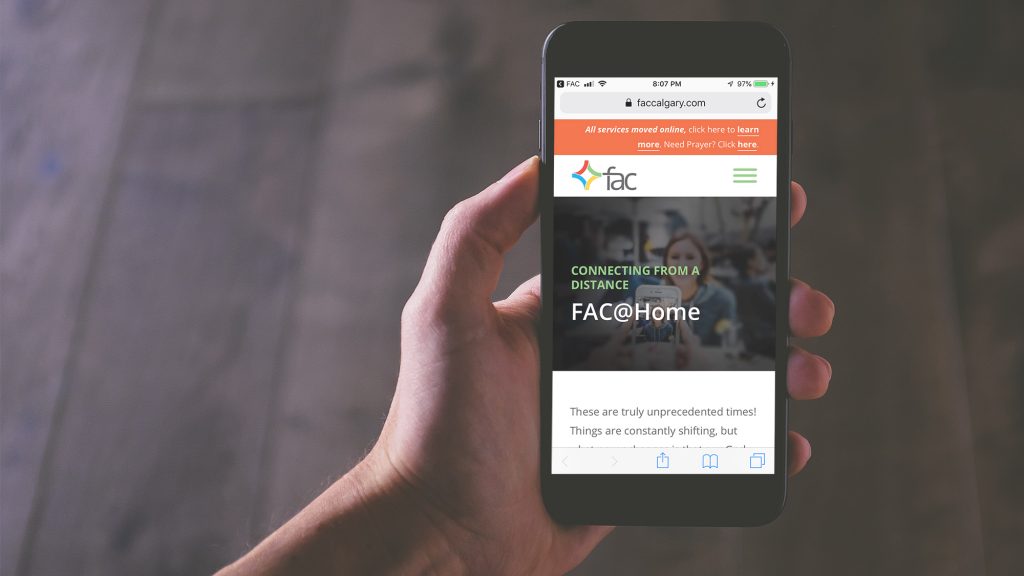 What's been happening online at FAC? So much, but here are a few highlights.
We've recently re-launched FAC's Online Campus at live.faccalgary.com. You can also still get there from our website homepage – just click Watch and then Live Stream. This brings you to our Online Campus where, during our weekend service times, we have the ability to chat with each other and also request live prayer from one of our Chat Hosts. If you're feeling ambitious, create an account and add a picture to your profile for the chat – or don't … you can still participate! Either way, I'd love for you to join us at the Online Campus and say hello!
If you're on YouTube, we also recently started broadcasting our services there. Be sure to stop by and join me and others in the chat on the weekend. Be sure to subscribe to our YouTube channel too! Visit us on YouTube.
We continue to stream on Facebook Live for all 3 service times. Visit our Facebook page – and be sure to like and follow to be notified whenever we go live. You can also join the FAC Online Facebook Group – also a great way to stay connected to the global FAC community. The Facebook Group is a great way for us to pray and support each other throughout the week.
FAC@Home highlights the many ways to stay connected to FAC via online means.
If online ministry is something you're interested in being a part of, be sure to connect with me – I'd love to chat more.
Maybe you've made your way all the way to the bottom, and you don't know Jesus as Friend and Saviour yet. Learn more here  – and let's connect today … Saying yes to Jesus will be the best decision you'll ever make.
Listen, God is reaching out to you. He wants to connect with you, and I want to encourage you to take 1 step today, whatever it may be, to get closer to Him. If you need help with your next step, don't hesitate a bit to send me an email. Let's continue the conversation –  wherever you may be. You are not alone!
Pastor Cory Harasym serves as part of the Connect team and pastors the Online Campus of FAC.