Looking for a morning Bible study for women? Join our Women2Women Tuesday Bible Studies for weekly large-group Bible teaching, with small-group discussion, community, and prayer with women of all ages and stages of life at the FAC Deerfoot campus (12345 40 Street SE). New studies offered in fall, winter, and spring sessions. Newcomers are always welcome!
Women2Women Evenings
Winter Study begins January 14, 2020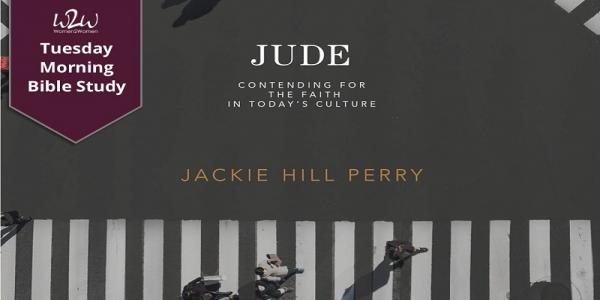 "Jude: Contending for the Faith in Today's Culture"
Tuesdays, 7:00-8:45 pm
Discovery Theatre (upstairs, FAC Deerfoot)
Cost: $25 (includes workbook)
While often overlooked, the Book of Jude remains as relevant today as the time it was written. God has commanded His beloved church to do the necessary work of contending for the faith in a world of unbelief, and as we do, He will keep us from falling into the same deception. In this study from Jackie Hill Perry, dive into themes of being called, loved, and kept, and learn how to point others to Jesus in grace and truth. We serve others well when we share the whole gospel with them, not just the parts deemed attractive by our culture.
Register
NOTE: Childcare is not available for the evening edition.
Women2Women Scholarships
We don't want financial barriers to ever prevent you from participating. For confidential consideration for a Women2Women scholarship to help cover your TLC registration, please complete the W2W Scholarship Application Form and email it to w2wscholarships@faccalgary.com for review.
---
You might also be interested in…