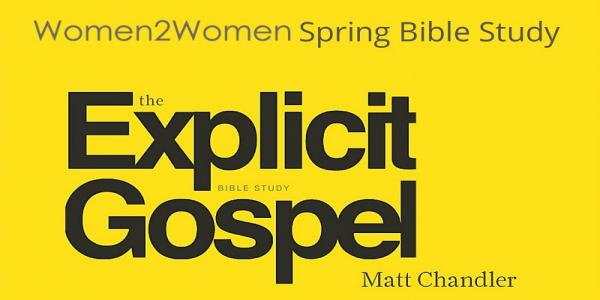 The Explicit Gospel by Matt Chandler
Tuesday's, beginning April 6th to May 11th, 2021
Cost: $22
PLEASE NOTE: The time stated as the start time does not reflect what time each group will meet.
There is no better news for us and for our world than the gospel: the good news of who Christ Jesus is and what He has done. But the gospel is far more than good news that just saves us and then we move on. It's what moves us forward, what helps us to persevere, and what keeps our focus on the unseen reality that is coming – the consummation of all things under the headship of Christ.
Join us for a six-week study where we will learn how the gospel is central to the whole Christian life: from the moment we are saved, through our lifelong journey to become more like Christ, and continuing into eternity. Catch a glimpse of the size and weight of the gospel: the eternity-spanning glory of the finished work of Christ!
FAQs:
If I order my study book through FAC, how and when will I receive it?
When the books arrive, you will receive an email with information regarding book pick up times. Please read through the email carefully for explicit instructions regarding pick-up.
What if I choose to purchase my book through Amazon instead? How can I get a refund?
Simply email Melissa Strutt (mstrutt@faccalgary.com) to request a registration refund if you purchased your book through Amazon.
Can I be in a group with a friend or family member?
Yes, you can. If you have a preference, simply send an email to Arlene Bergen (Women's Ministry Director) and we will accommodate it if at all possible.
How will I watch the weekly video sessions?
Beginning April 6, 2021, all study videos will be posted on FAC's RightNow Media account for viewing. You are required to have an FAC RightNow Media account to access the videos. (If you don't have an account, just copy and paste this invitation to get one: https://www.rightnowmedia.org/Account/Invite/faccalgary.) Videos will remain available for viewing until June 8, 2021. Should a circumstance arise in which you'll need more time, please let Arlene know and we'll make the necessary arrangements.
Register for this event