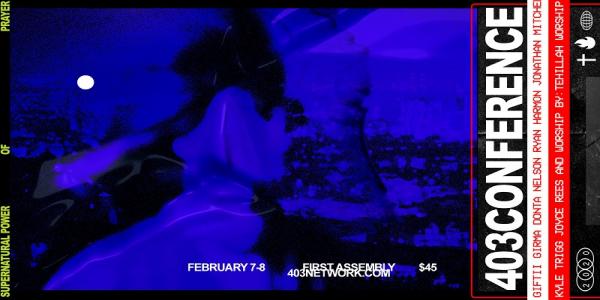 JHS and SHS STUDENTS…DON'T MISS 403 CONFERENCE THIS YEAR. YOUNG PEOPLE ENCOUNTERING JESUS, EMBRACING UNITY, EMPOWERED BY THE SPIRIT AND ENGAGED IN MISSION.
Date: Friday, February 7, 2020 doors open at 6:00 pm, and Saturday, February 8, 2020 at 9:00 am
Cost: $45 per person (Includes After Party and Bloc Party with snacks, lunch on Saturday, prizes, fun, and a powerful encounter with JESUS!)
Location: First Assembly Church (6031 Elbow Drive SW)
For detailed information about the conference, please visit www.403network.com/conference
Once you've registered, please let Pastor Jon Caldwell know!
Register for this event