Summer Student Feature: Asia & Elijah
Meet Asia and Elijah, two of this year's batch of summer students! Summer is always an exciting time of year at FAC because we get to apply for the Canada Summer Jobs (CSJ) program⁠—allowing us to open up some short-term work opportunities. Here are their stories, where they share a bit about who they are, what they love, and how God is working in their lives.
Hi, I'm Asia!
I graduated from Henry Wise Wood High School and am an aspiring cinematographer. I have loved the art of film-making ever since middle school.
Growing up in a Christian home, the thought of God has always been around but I never really paid attention to Him. Then one summer, I attended a Christian camp where I experienced being prayed for, for the first time. It felt a little bit awkward at first, but as I leaned in, and even though I'm hard of hearing, I listened.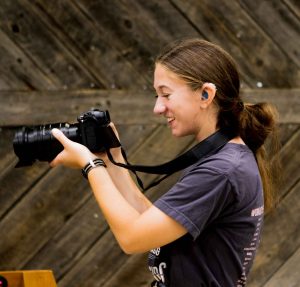 I felt God's presence in a way I had never before. I then went on to become a camp counsellor and enjoyed serving the kids. My love for film was actually inspired by a documentary we watched together at camp! I would love to one day make documentaries about the world around us.
This summer, when I got my license, I became more intentional about finding a church, reading my Bible, and pursuing my relationship with God. I couldn't go to camp this year due to scheduling issues and decided to look for a creative job. Through my mom's connection, I found this video producer role at FAC and I felt God guiding the entire process. Currently, I am working on our summer highlights video, where I not only get to film and edit, but also work with kids! While filming kids camps, for example, I get to be in the moment and have fun with them…sometimes, I forget I'm even filming!
I am looking forward to meeting new people and broadening my experience and techniques. I hope to learn new ways of creating films. I've always been a person to stay in my shell creatively; I'm so glad that my role at FAC gives me opportunities to explore more and venture outside my creative comfort zone!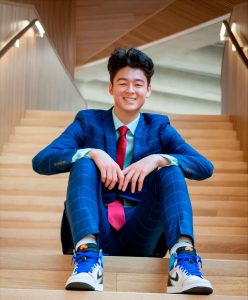 Hello, my name is Elijah!
I recently graduated from Holy Trinity Academy High School (Go Knights!). I have always stayed connected through the people and the community here at FAC over the years.
I chose my role as Refugee Sponsorship Assistant because I felt really drawn to what it was about and helping people pursue a better life in Canada. I have been on a few missions trips and those trips opened and shaped my perspective as to how life-changing moving to Canada can be for refugees.
My career aspirations are all out of sorts right now however performing on Broadway would be great if I was offered the opportunity. I love basketball; I am a 6-foot-tall combo guard and although I don't love to pass the ball, I will shoot it any day of the week!
I love hanging out with friends and building community. I find that just being around people and talking, laughing and hanging out is such a simple way to connect with others and reflect God's image and spread His love. I like camps with students and younger kids; I really like building into young lives and setting an example for them to follow. I also love singing and performing.
I was blessed with a voice and it is such a simple way for me to honour God by using the gifts he has given me. However, I don't think my family loves my morning "Shower Concerts" that the whole house always gets to hear.
I am so glad to be part of the FAC family this summer and it has been an amazing opportunity to serve God in very practical ways. He has taught me this summer how to love and how to honour him in our everyday lives. Thank you for letting me share a bit about myself, hope to see you around!
Be sure to say "hi" when you see Asia and Elijah around this summer! We love working with and investing in the lives of students as they gain ministry experience here at FAC.
You may also be interested in …