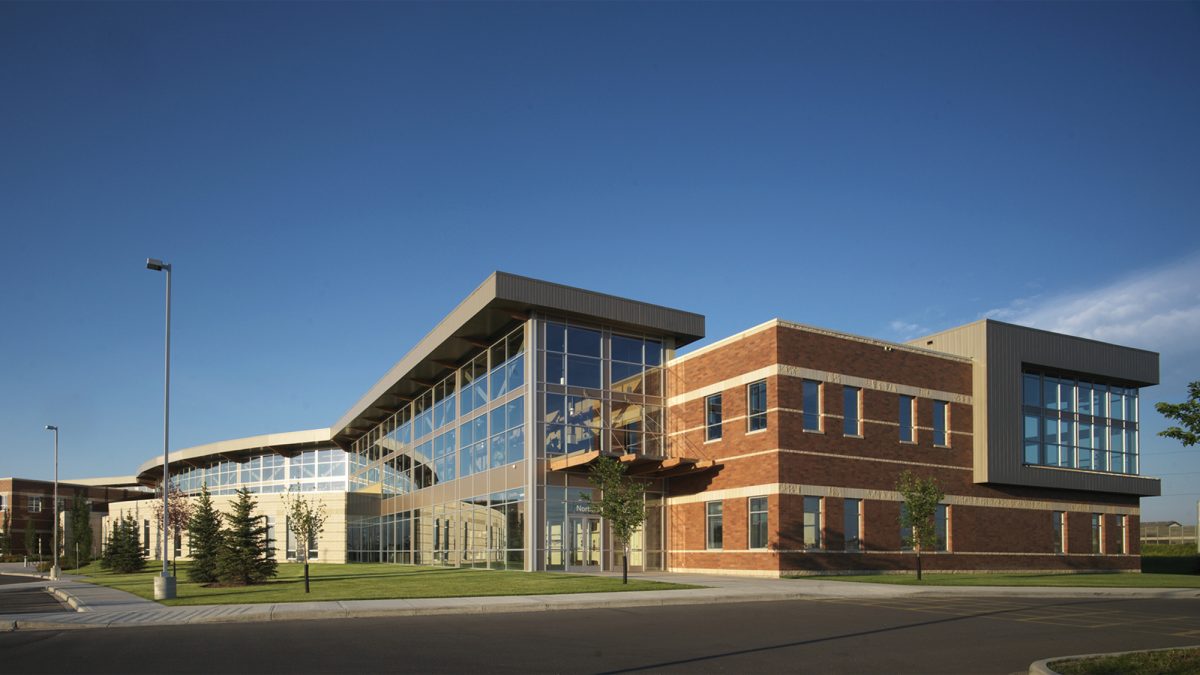 As our city and province move forward with the various stages of re-opening in a COVID-19 reality, we as a church family are doing the same – based on the requirements and best advice provided by experts, and bathed in prayer! And that means gathering again in our physical campus space won't look the same as it did last winter – not for a while, anyway!
Here are some of the realities we'll need to observe as we gather:
Service times may be adjusted to accommodate sanitizing the auditorium, washrooms, door knobs, light switches, etc. between services.
You may be required to RSVP to attend a specific service to minimize overcrowding.
You'll need to stand in line to register your attendance upon arrival to support public health contact tracing efforts in the event that an attendee becomes ill.
We encourage everyone to wear face masks.
In this phase DiscoveryLand will not be offered for any age; children must remain with their families during the service.
To ensure we maintain physical distancing, not all rows of seating will be available and seating may be assigned.
Gatherings will include no congregational singing, shaking hands, or hugging; no socializing anywhere inside the building.
You'll be dismissed by rows at the end of the service and must immediately leave the building.
Attendants will monitor the flow of traffic in and out of the washrooms.
The onsite Café and Bistro will be closed and no free coffee will be available.
Different, to be sure … And each week brings new information as our medical leaders continue to learn more. We continue to trust and seek the God who remains the same as we navigate these uncertain days. Be sure to visit our FAC@Home webpage to sign up for regular updates with FAC e-news, and to stay up to date on what's happening online!
Please read further for a recent update from Pastor James Paton regarding our re-opening strategy.
A Word from Pastor James Paton
Positive Disruption is not only the title of the teaching series we're just wrapping up; it's the reality we're living in. The amount of change we have experienced in the past 3 months has been monumental. The impact on each one of us personally has been challenging and the consequences considerable. Yet more change is on the horizon as we enter phase 2 of re-opening in our province. You have been waiting patiently – so let me try to explain where we are right now and what will happen next.
Some time ago I expressed to our staff team some principles and priorities that will guide how we navigate this change. Principles such as:
We seek truth:
Jesus answered, "I am the way and the truth and the life. No one comes to the Father except through me." (John 14:6, NIV)
We seek the way of love:
Jesus replied: "'Love the Lord your God with all your heart and with all your soul and with all your mind.' This is the first and greatest commandment. And the second is like it: 'Love your neighbour as yourself.' All the Law and the Prophets hang on these 2 commandments." (Matthew 22:37-40, NIV)
We seek to serve:
Sitting down, Jesus called the Twelve and said, "Anyone who wants to be first must be the very last, and the servant of all." (Mark 9:35, NIV)
From these principles come our priorities:
We will err on the side of public health and safety.
We will err on the side of long-term thinking.
We will err on the side of preparedness.
To minimize mistakes, we will respect and heed the advice of experts.
What Will It Look Like to Re-Open our Buildings?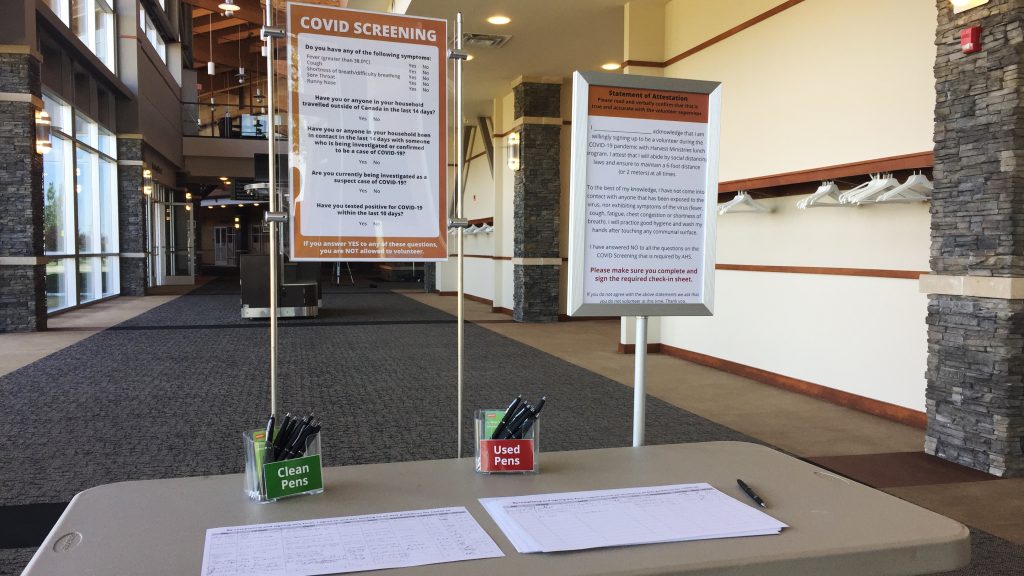 Because your health matters most of all, we have engaged the professional advice of public health experts to help us navigate what it means to re-open several large facilities for large numbers of people. As we've worked through the government regulations, there are a number of processes and procedures we need to put in place, as well as equipment we need to purchase. Things like a registration system to book your seats and confirm attendance; signage to help you navigate your way safely while maintaining physical distancing on campus; PPE for all of our volunteers; and a rapid sanitation system to be used before and after services. Our logistics team are working diligently to have everything ready for your return.
We want to be ready for you when you feel ready to join us in person at either of our physical campuses. But things will be different. To keep our numbers within the allowable range, you'll have to book your seats in advance and sign in once you arrive. (That means being on time!) Children will have to remain with you in the auditorium, though we hope to have limited DiscoveryLand capacity for those 2 and older in the near future. Masks will be encouraged. There will be no congregational singing as singing has been identified as a high-risk behaviour when it comes to spreading the virus – but humming along is permitted! Following the service, you'll be dismissed row by row. Unfortunately, we do not have the space for visiting on Main Street after the worship services.
The Process of Re-Opening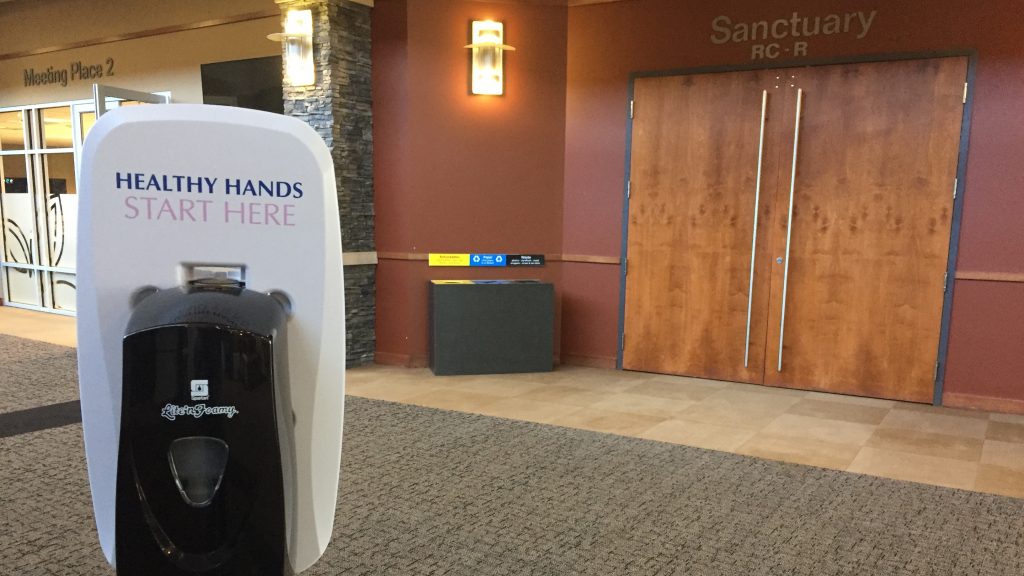 Re-opening will be more of a process than an event and we probably all have our own personal timeline about when we'll feel comfortable being in a large crowd. For some, even with these limitations, just being with people again will be a huge draw. For others, this will feel less than ideal. This is why we are fully committed to investing in our online campus. Our weekend worship services and other resources will continue to be broadcast on our website, the FAC Experience app, Facebook Live, and YouTube.
It will take us some time to have everything ready and I'll do my best to keep you updated on our progress. Please know this: even as we wait, God is at work. People are saying yes to Jesus almost every weekend. Prayers are being answered. People experiencing homelessness are receiving shelter and hungry people are being fed. Our church has never been closed. We are God's people on mission – everyone, everywhere, all the time.
Pastor James Paton
Lead Pastor