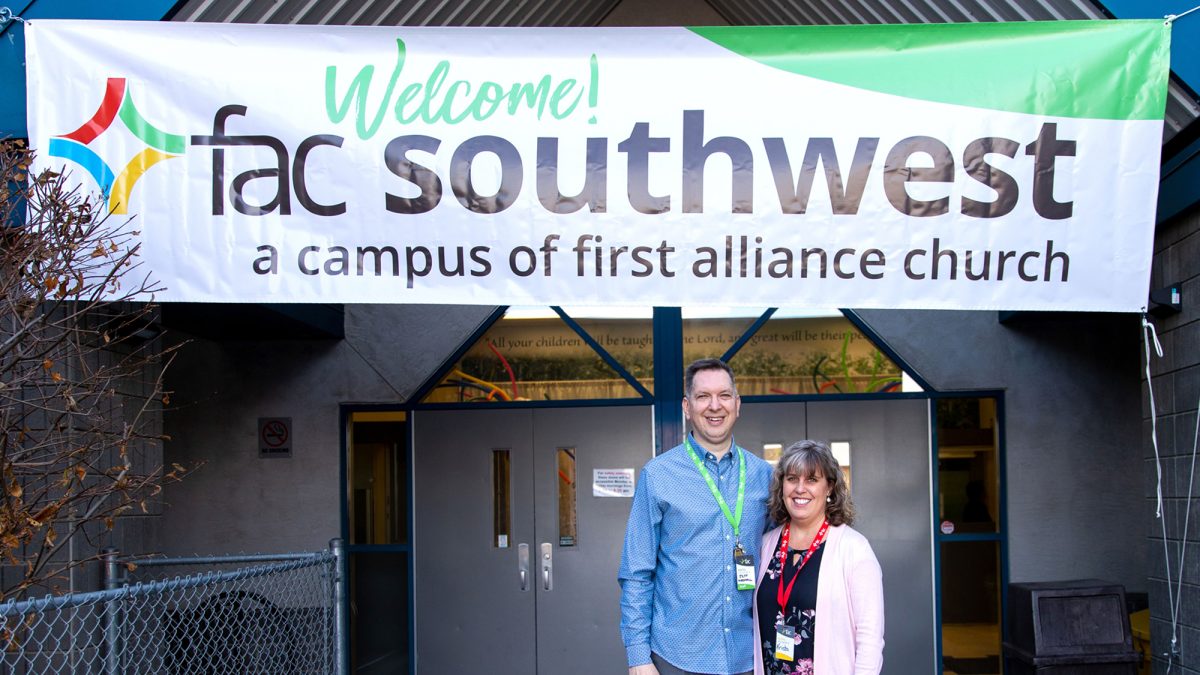 The decision to relaunch in-person services at FAC campuses as we continue to navigate a COVID-19 reality is met with both excitement and some hesitation. On one hand we're excited to be able to gather again and see each other face to face. I don't know about you, but I have definitely experienced what they are now calling "Zoom fatigue"!  My eyes hurt from staring at a screen in meetings several hours a day just to be able to connect with my friends and colleagues. I'm a "people person," so being trapped at home for months on end made me feel like one of those caged tigers in the "Tiger King" documentary. Just like those tigers, I found myself pacing back and forth in our room staring out the window, wishing I could be with people! Don't get me wrong, summer was great for socially-distanced outside visits … But there's something about being gathered with God's people to worship together the King of Kings and Lord of Lords that nothing can replace.
We have been together during this pandemic, even if just in Spirit as we worship together online. And we have continued to be the Church by serving the poor, the hungry, and those in need in our communities. But Hebrews 10:24-25 reminds us:
"And let us consider how we may spur one another on toward love and good deeds, not giving up meeting together, as some are in the habit of doing, but encouraging one another – and all the more as you see the Day approaching."
We have been able to spur each other on – online – toward love and good deeds … But there's something about being together and doing this face to face. Feeling the sense of family and camaraderie as we gather together, all for Jesus. The Bible says not to give up on meeting together as some have the habit of doing, and we haven't done that either. We have found creative ways to meet with each other safely – still having small groups, doing Bible study, worshiping, and serving others. And we can't forget about these creative alternatives as we begin to gather back together; there's still a need for them for those who wish to remain connected online. Our catch phrase as we have been planning re-launch has been, "We're ready when you're ready!" We know for some of you, you won't yet be comfortable returning to a physical campus. And let me be clear, that is totally OK. Our online campus will continue to air our weekend services. And we won't abandon all of the great things that have happened during this pandemic, enabling you to still be involved and connected online until you are ready.
Safely Navigating the Uncertainty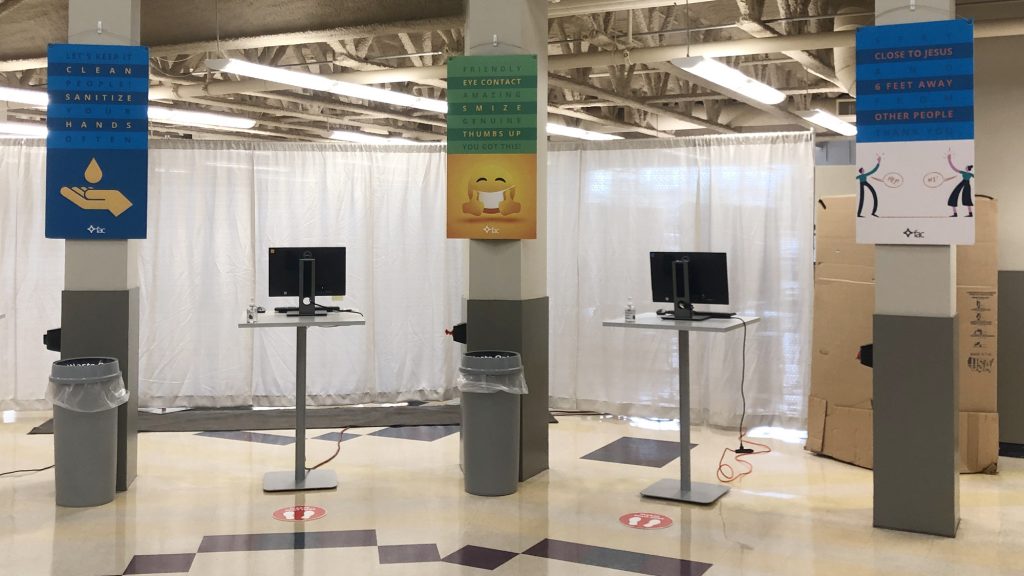 The hesitation comes in not knowing what this fall will bring, what with children now returning to school and a potential second wave of this virus. But we know it will be worth it! God never said things would be easy and go just the way we want them to. Nor do we need to be fearful of what this fall will bring. God is bigger than our fears and he tells us over and over again that we need to be wise. We have taken this Godly wisdom very seriously as we prepare to be back together on September 12/13. No matter which campus you plan to attend, we have been working hard to ensure we are following Alberta Health Services (AHS) guidelines for public gatherings. We have gone so far as to work directly with some of their staff and seek their input on our facilities and services. We want you to know that we are taking this seriously and seeking wisdom with each decision. And we want to make this as safe and as comfortable as we can for you.
So what will things look like when you come back? For starters, we're asking you to register on our website, each week, for the service you will attend. This will enable us to have adequate spacing between your family and others in the service. We're asking you to wear a mask when you arrive at the campus, a requirement for all public spaces in Calgary. We would ask that you review the COVID-19 screening questions before you come on the weekend, ensuring you can answer "No" to each of the health questions when you enter our campuses. Our volunteers will check you in, asking you for the last 4 digits of your phone number to register your family as being present at the campus. And finally we'll ask you to maintain social distancing of 2 metres, use hand sanitizer after touching surfaces, and refrain from singing – even while wearing your mask.
Called to Community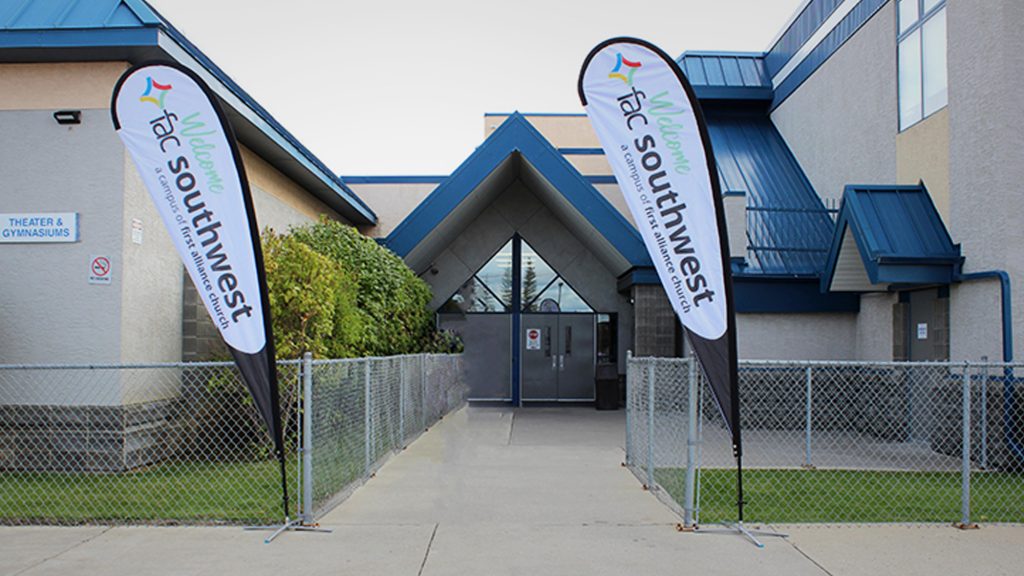 As the Southwest Campus family begin to talk about coming back, as their campus pastor I'm hearing their excitement to be together again. Although the campus was only 4 months old when we had to close for the pandemic, the sense of community has been maintained. The call to be the hands and feet of Jesus has been met by many who have reached out to support friends and neighbours by picking up groceries and running errands. We've continued to meet on Zoom after the online service to encourage and pray for one another. We have been the Church in a very difficult time to those who needed it. But I believe this is only the beginning of what God wants to do with his Church in this season. So let us not neglect meeting together … Come when you are ready, and let's spur each other on to more good deeds – because the name of Jesus needs to be known in our troubled and confused world. Remember this is a season and not forever, so let's tackle this together so that none of us have any hesitations about being back together.
Pastor Jeff Marshall leads the FAC Southwest Campus community in striving to serve the community of SW Calgary.
Be sure to check the website often for the latest updates as we re-launch in-person gatherings at both Deerfoot and Southwest campuses – including how to reserve your seats in advance, and what to expect when you join us!
Service Times
Deerfoot Campus (in-person and online)
Saturdays 6:30 pm
Sundays 9:15 am & 11:15 am
Southwest Campus (in-person and online)
Sundays 11:15 am