We have exciting news … September 12/13 is our on-campus re-launch weekend! In-person public worship services will resume at both the Deerfoot and Southwest campuses – and you're invited to participate.
We have continued to follow all public health recommendations and guidelines regarding COVID-19 so that we can provide a safe environment for you to gather in person. You'll have the opportunity to reserve your seats in advance for the service you plan to attend, and we'll hold to safe limits on the number in attendance. As you enter, our touchless system will confirm your arrival, friendly ushers will help you find seats and maintain physical distancing, and a clean and sanitized facility will be waiting for you. Some things will be different but that will also provide a great opportunity for us to experiment with engaging worship formats. We want to be ready when you are ready to join with us.
At the same time our online campus will continue to broadcast on all platforms at the usual times. We want to serve you and those you love as best we can. Whether you feel able at this time to gather in person or not, we'll still join together as one large family to worship King Jesus.
We're Still the Church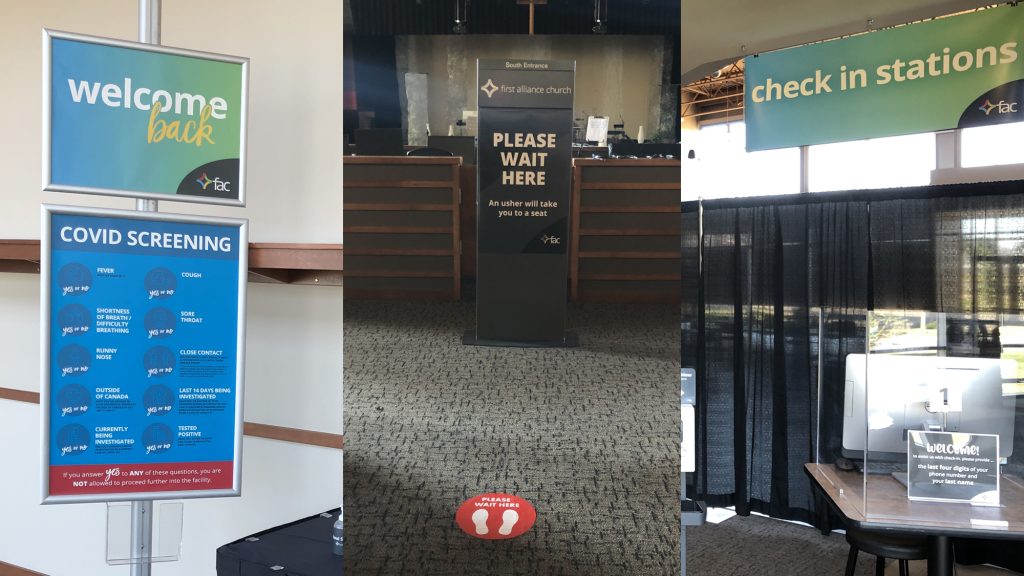 It's been almost 6 months since we've gathered in person. In some ways the time has flown and in other ways we've all experienced a sense of loss and isolation. I'm so grateful for our amazing volunteers and staff who have worked tirelessly to help keep us connected. We might not have been inside a church facility but we have certainly been the church – housing the homeless, feeding the hungry, discipling one another, and proclaiming Jesus!
Right from the start of the pandemic we have been guided by a number of principles from Scripture:
"Jesus answered, "I am the way and the truth and the life. No one comes to the Father except through me." (John 14:6, NIV)
"Jesus replied: "'Love the Lord your God with all your heart and with all your soul and with all your mind.' This is the first and greatest commandment. And the second is like it: 'Love your neighbour as yourself.' All the Law and the Prophets hang on these two commandments."" (Matthew 22:37-40, NIV)

"Dear friends, let us love one another, for love comes from God. Everyone who loves has been born of God and knows God. Whoever does not love does not know God, because God is love." (1 John 4:7-8, NIV)
"Sitting down, Jesus called the Twelve and said, 'Anyone who wants to be first must be the very last, and the servant of all.'" (Mark 9:35, NIV)
These 3 principles have reminded us of what we're called to in all circumstances. By clarifying our values and giving us focus, they've informed our rallying cry of Thriving today, shaping tomorrow.
As we enter this next phase of the journey we're excited about what God has in store for us. And I'm excited to see you again. Things may be challenging; not all of us feel ready to gather in person at this point; and doubtless we will face complexities. But in it all I am continually reminded that God is with us and he is for us. We continue to find new opportunities to serve our city and proclaim the Gospel. Jesus promised us that he is building his church! Nothing can prevail against him.
James Paton, Lead Pastor
Be sure to check the website often for the latest updates as we re-launch in-person gatherings – including how to reserve your seats in advance, and what to expect when you join us!
Service Times
Deerfoot Campus (in-person and online)
Saturdays 6:30 pm
Sundays 9:15 am & 11:15 am
Southwest Campus (in-person and online)
Sundays 11:15 am