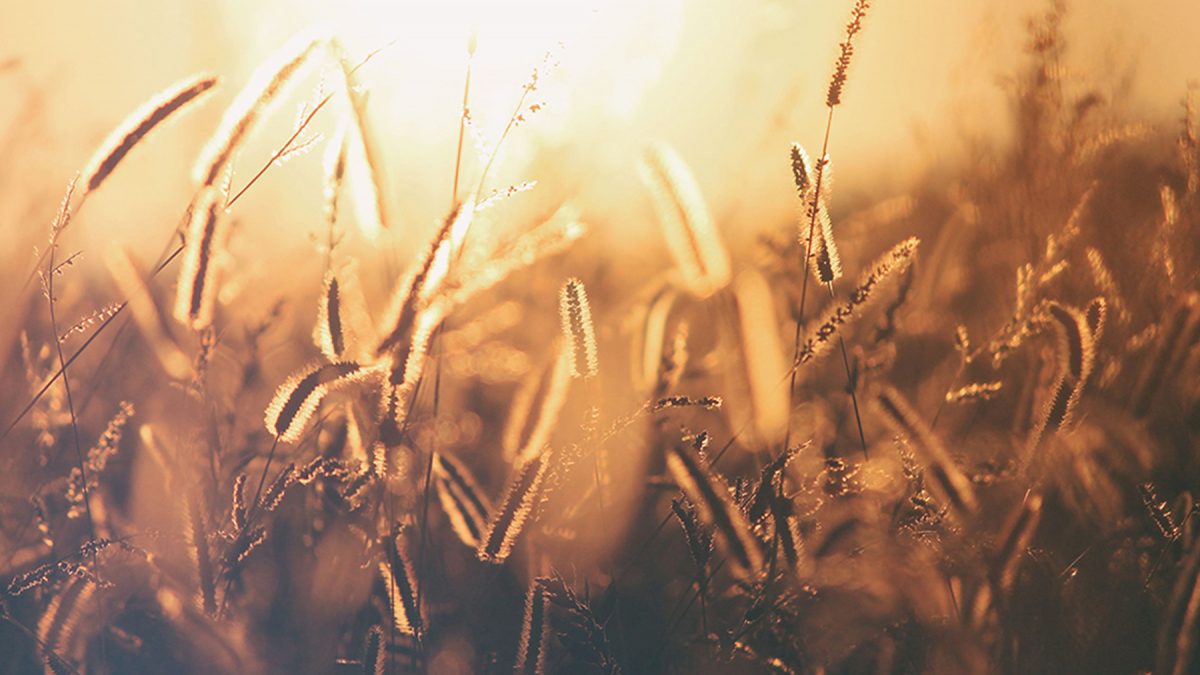 "Hey, Richard, can you let me know how many more sandwiches you have to make? I'm making the order for next week," I ask with a coffee-stained packing slip barely gripping the cracked clipboard in my hand. "I got these 200 left for Friday, then the 400 for Saturday, and have enough turk' and ched' to get 150 sets made for Monday," he recites, as if it's the 4th time he's gone over it in his head.
A Land Flowing With Milktoast TV and Honey Hurdles
A pasture of shining stainless steel beaming through wheat-brown archipelagos sprawls out before him as a canvas, ready to dawn a new batch – 100 new "sannis" (because at 3,000 bagged lunches a week, who has time to say the whole word?). The only item out of place on the garde manger landscape is the last remaining totem of early lockdown kitchen life, when volunteers remained home and the duties of Harvest staff were carried out in quieted solitude – a quiet only broken by the occasional chortle or outright belly laugh and the sounds of mid-90s milktoast family sitcoms streaming endlessly on Netflix. The volunteers have come back, the solitude is gone, but the giant android screen lifted into the sky-blue Bluetooth speaker still remains.
As I round deli Pangea to recon the ice caps, my cooler and freezer – which to traverse is at all times an effort in life-sized Tetris, given that hundreds of packed lunches stay labeled and binned on rolling racks the size and weight of a tenured professor's bookshelves – I catch Gail bustling through the kitchen muttering what I can only hope are next week's lottery numbers as she fusses over a stained-ier scrap of paper. "Gail," I start – "Don't talk to me! I'm counting … 40 plus 12, plus 12 – oh, and I still have 50 …" The volume and sense fade away into the office, and I pause … "Rich, why only 150 for Monday? Numbers are still at 400."
He slightly tilts his head in my direction while he closes and begins to bag his next crop. "Yeah, but Brianna wants more halal options then, so I thought we'd make 100 tuna and 150 egg." "150?! I only need 100 more, Rich," Gail counters as she erupts out of the office. "Only 300 for Monday now? Did you just talk with Brianna?" Richard says, confused, hands still busy. "No, Monday is 400; I need 100 more for the team now," Gail answers. "Yes, those are on the 3rd speed rack in the fridge, halal on the bottom 2 rows," Richard replies.
"Oh, perfect," Gail gleams. She's like that; confusions and mountains need to be conquered all week long, but she never fails to bounce over them with the happiness of a thousand caffeinated spring bunnies. But nothing lasts forever; after all, she has to retrieve a rack from the fridge … We won't see her for a while.
I carry on to the dry store room to continue my excavation of extant lunch supplies not decimated by the bagged lunch fire hose nozzle being cranked all the way left, and my pocket jingles with fresh change. I have planned my steps, but God has rerouted my way – back to Richard.
"Sorry, Rich-man … Brianna just texted and they have an extra 50 left over today so she's asking for less tomorrow," I announce blithely, as if either ignorant or apathetic to his real-time task of now trying to manage the ripples caused by my Dinnie Stane toss in his pristine lake. It's not that I care not for crafting my instructions delicately – after all, I did just reference Dinnie Stanes when "rocks" would have done just fine. It's just that with Richard I don't have to. Gail bounces over mountains, no doubt; but Richard subdues them. I daresay there isn't a child in Calgary east of Deerfoot and south of Memorial who hasn't had a sandwich made by Richard, and all while he was giggling at Uncle Joey's latest foibles.
Within seconds he is, like his co-worker still trapped in the cooled rolling lunch maze, mumbling about tuna on Friday, turkey for my order, and loading up his left shoulder with a full tray of finished sandwiches. "Yeah, no prob, boss, you'll have turkey to last till Tuesday and ched for Monday, then." And I triumphantly mark it down next to a fritter smudge, as if I just did something … Oh, yes, the dry storage.
But a second time I don't make it … The cooler door blasts open and immediately a conversa– … no, that's not right … a data-transfer between 2 super-servers about carrots downloads audibly in 8.3 seconds: "Are these the –?" "Yes." "Carrots in groups of 75 now?" "It's easier to count per batch and fits better on our only shelf we have left." "These are tomorrow's?" "No, I took those; these just got bagged and are for Friday." "Great, ahead of the game." "Yeah, even more so – Brianna told Sterling we have extras so we are 50 heavy for tomorrow." "Oh, OK, well, I should go tell the team to shift all the bins down a row then."
It's times like these that even I take to mid-90s TV in my memory, and for a moment get caught in visions of Laser, Siren, Blaze, and Turbo battling it out for glory in a high-impact foam-core stadium. One such challenge between the herculean class and the paper-pushing proletariat fades in my memory but for the arduous challenge of wading through what I'm imagining as honey, knee-deep, with obstacles, 1st past the finish for triumph. The task is not unsurmountable, but for most of us with barely the requisite athleticism to tackle putting on socks while standing, it feels a little like Al Borland standing over our shoulder as we wonder if we have enough "power" to succeed: "I don't think so, Tim." Arnie and Jan, 2 insurance adjusters from Boise, already have a tough enough time battling it out with career gladiators, so does there really need to be honey? Trying to wield a team in a confined space while keeping them apart to produce huge amounts of food is hard enough … Do the details and budget and output requirements really have to change on a weekly if not daily basis?
Harvest is full of talent and gumption; we'll make it through – but for goodness sakes, does there have to be honey?
Knowing whose time is really precious, and not wanting to waste hers, I stop Gail as she has abandoned unlocking the tangram to access her sandwiches so that she can go strategize where to push an extra 50 completed bags to. "While you're heading to 'bag land' you should probably know that pizza bags got bumped up to 150," I say.
"Ogden is moving 150 pizzas already?!" she asks. "No, we've added 3 more locations – driver names and quantity divisions will be here shortly."
While I say this I see Richard come out of the fridge, stop and listen to me for almost no time at all – actually, yes, now I am certain that instead of listening to me he just reached inside my mind and took the information he needed to save himself time, then returned to the fridge. About the time Gail returned from shocked horror at the scope of her ever-growing duties to smiling at the prospect of feeding more kids, Richard burst through the cooler door like Urkel in grand procession through the Winslows' front door, with a box of gala apples wedged into his neck.
"Hey, Rich, I'm gonna need more fruit washed for Frid–" Gail starts; "Yes, I got 'em right here, Gail," Richard finishes.
On Tuesday, March 24, at the onset of the COVID-19 pandemic, and after about a week of strategizing and budget approval-ing, we sent out the first 100 of 200 weekly lunches. And since that point, the Harvest kitchen has seen growth up and out in exponential form to where, as I write this at the end of July, we're at 3,000 weekly, with pizza lunches and pancake breakfasts. The first few weeks we were sending out a mere cart-full of supplies to our partner organization in Ogden for them to assemble bags. Then the amount doubled, and tripled, and doubled twice more – and speaking of quadrupling, in the same time the food distribution went from 1 location to 4. Like the vivacious and larger-than-life-haired Topanga changing everything for a boy trying to make acquaintance with his world, orders came in to bag all the lunches before they went out, and everything changed – like normal.
The Cavalcade of Complexity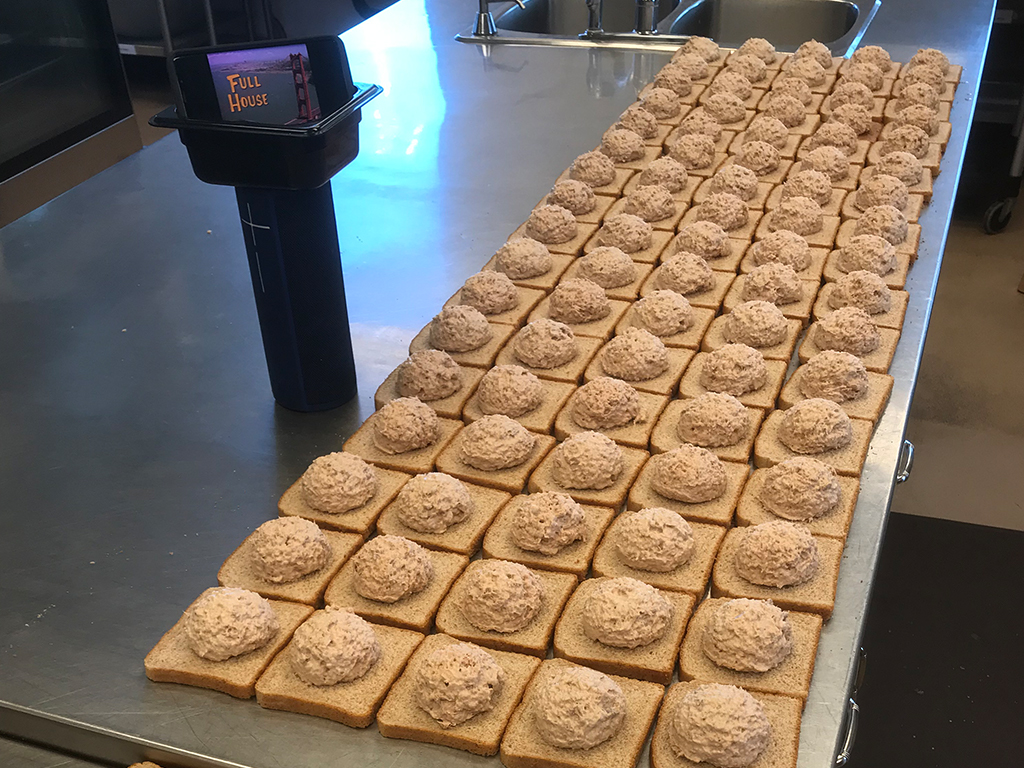 Starting now all bags have to be stamped with our logo …
Oh, and we need to start adding an extra couple hundred for the weekend …
Rain on the weekend lowered giveaway numbers; reduce Monday's output …
Hey, we need to be sending out food hampers and frozen meals to families …
Spend only what you must; cash is king and must not be tied up in inventory …
Boss, we need to be prepping next week's lunches this week …
Monday was sunny and we ran out – increase Wednesday twofold …
Sorry, last-minute hamper request; Superstore open till 10:00 I can just make it …
Stamps aren't working, increase numbers …
Oh, and we're going to do hot pizzas on Fridays …
That was a terrible success … pizzas at all locations starting now.
Numbers up, more hampers …
We need halal and vegetarian frozen family meal options …
Hey, we got stickers, no more stamping … Sorry, Richard, we've outsourced the stickering … You'll have to hang with Mr. Cooper on your own time now …
Numbers up …
Add 2 more locations …
Add volunteers, create a system where minimal proximity increases efficiency yet under no circumstances can contact be tolerated … ooooookay …
Belshazzar and Jabez Walk into a Gym…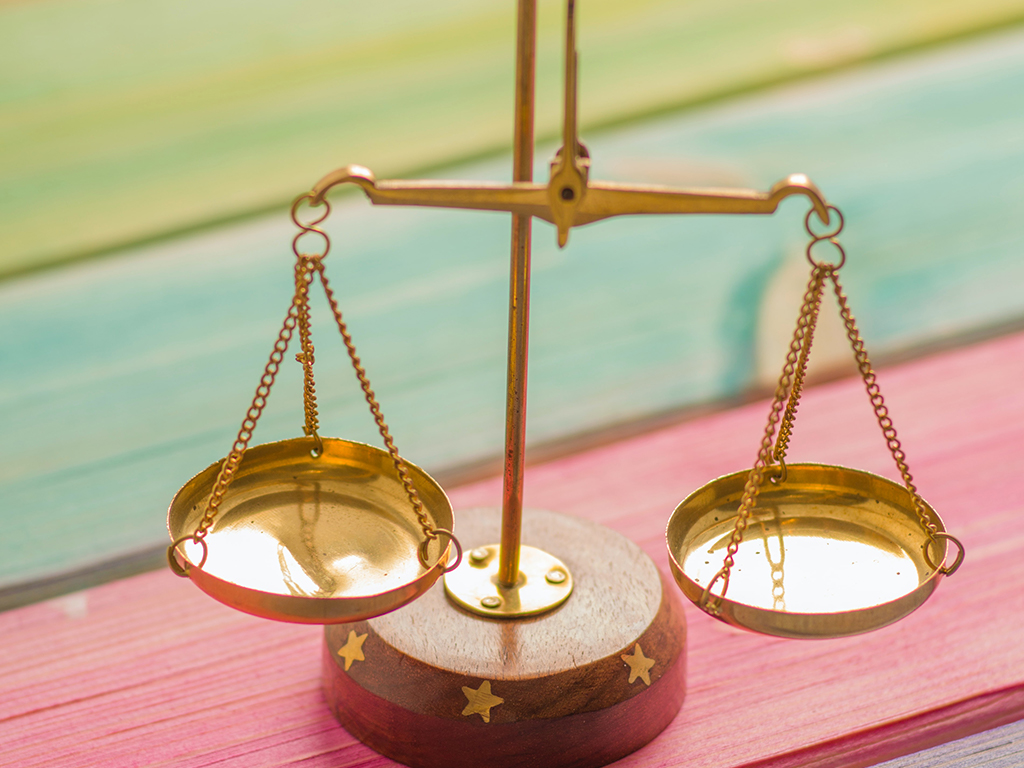 "Mene Mene Tekel Upharsin." (Daniel 5)
It turns out the son of Nebuchadnezzar was not fit to have the gold his father stole. Belshazzar, when faced with an opportunity to learn from the wisdom of his father, chose foolishness instead, and failed the test. As a result of his failure to be able to bear the responsibility of the sacred implements of the Hebrews' holy place, his days got numbered; for he had been tested, see, or weighed in the balance, and had been found wanting.
My dad, Jungle Jim Hunter, former Olympian and sculptor of future Olympians, defines fitness as "the ability to meet the demand of the moment repeatedly and consistently" – and I can tell you that if a ghostly appendage had scrolled onto the walls in the Harvest kitchen, it would have confused Daniel 5 with 1 Chronicles 4. My team's days were numbered, but with an Abrahamic-sized metre stick, we have been weighed and found wanting a vacation, and our territory has been enlarged, and enlarged, and enlarged.
I have seen, in my almost-decade here, massive demands put on me, my team, and my kitchen, and there has always been an adequate response to the demand – if, of course, you call usually exceeding expectations "adequate." This pandemic has again proven the axiom I never knew Harvest really operated on: joy in perfection, perfection through repetition, joy in monotony. We have made over 30,000 lunches, washed 30,000 pieces of fruit, personally seen to 30,000 folded and stapled 4-lb kraft lunch bags getting stuffed into vehicles, and instead of tiring or buckling under the strains of hoisting 6 tons (yes, I did the math – we're at slightly over 12,000 pounds) of apples to and fro, we are thriving. Systems are being perfected, shelves that aren't nailed down are being moved, adjusted, rearranged and otherwise repurposed to fit our needs better. Gleeful confabs over fresh coffee regarding sandwich sauce being more efficiently squeezed out of this bottle or that percolate in the early morning air as Harvest staff and volunteers seek new ways for channeling and commanding the torrent of demands falling on us from on high (literally – Brianna's war room is on the floor above us).
I am not surprised by any of this borg-like adaptability, but I suppose on occasion of writing this blog I am forced to analyze and articulate why we have such a capacity. We can do so because we are fit. In finding joy through repetition we have been found, in the balances, worthy of having our territory enlarged. The golden implements of holy culinary service are not used to imbibe or satiate ourselves, but to bless those who need a sandwich; who need to see a silly little sticker on a brown bag that says "we love you, we see you, eat." I feel a little like a schizophrenic Paul in 1 Corinthians 11 and 12, not knowing whether to boast or not … But if I must boast it will be in what God has done, and the team God has given me. This fitness, this ability to meet the demand of a hungry city with tens of thousands of lunches created, manufactured, and dispersed through a tense, ever-changing, ever-growing, financially-restrictive, and spatially-awkward matrix has been ascended to through years and years of developing an ear for the inspiring opuses of the monotone metronome; a sight for the exhilarating spectrum of grey; a taste for the intoxicatingly rich bowl after bowl of unseasoned tepid oatmeal; and an unquenchable thirst for just 1 more kick at the can.
Like Father, Like Flowers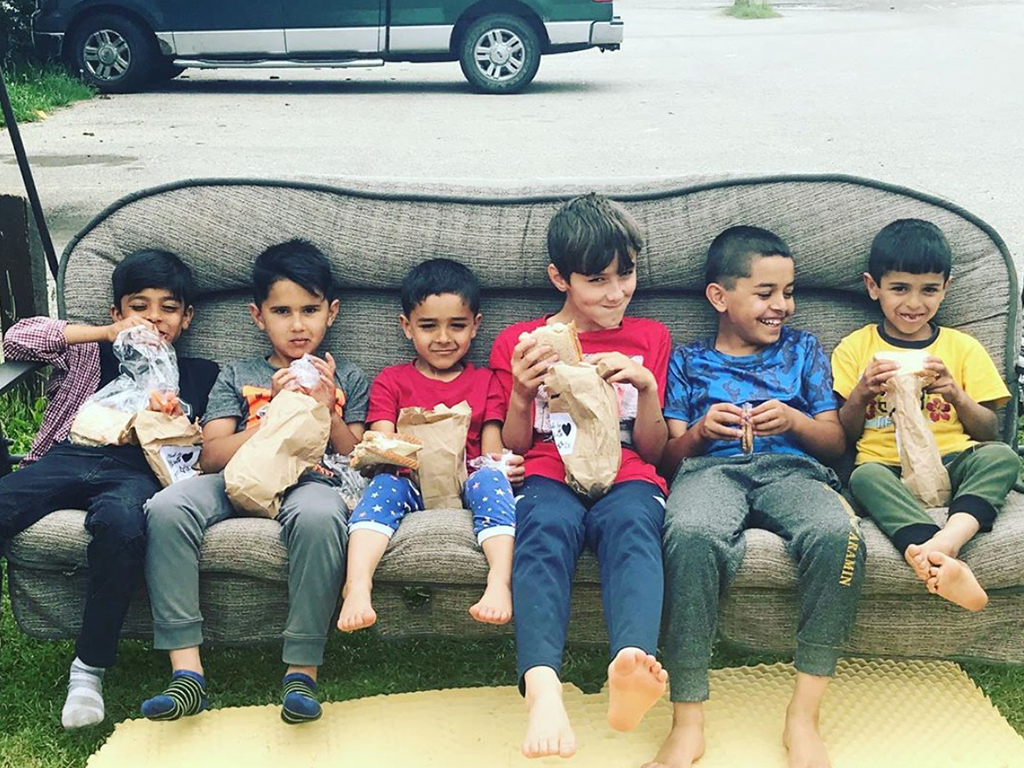 Chesterton famously wrote these words:
"Because children have abounding vitality, because they are in spirit fierce and free, therefore they want things repeated and unchanged. They always say, "Do it again"; and the grown-up person does it again until he is nearly dead. For grown-up people are not strong enough to exult in monotony. But perhaps God is strong enough to exult in monotony. It is possible that God says every morning, "Do it again" to the sun; and every evening, "Do it again" to the moon. It may not be automatic necessity that makes all daisies alike; it may be that God makes every daisy separately, but has never got tired of making them. It may be that He has the eternal appetite of infancy; for we have sinned and grown old, and our Father is younger than we."
So to you, Richard, who has yet another baker's thousand sandwiches to make … To you, Gail, with more bags to fill than the offspring of a thousand caffeinated spring bunnies … To the volunteers who show up every morning to clock in with Sisyphus … To all the lunch drivers who now know in their bones how many bags will fit in their cars and show up to an extra 50 … To John Siebring (our CFO) who fields all my calls/emails/texts/smoke signals/carrier pigeon/dispatch runner messages pleading for another signed cheque to buy more groceries … To YOU reading this who has given to our FAC COVID-19 fund and might consider it again … To the Sysco driver who wonders where we put all this fruit and sliced turkey and has still another reefer to deliver … To you Lisa (my Sysco rep) who receives my frantic last-minute call to sneak more order under wire … To the fresh prince who is attempting another short joke at Carlton's expense … To our dishwasher that has washed the same bin 347,000 times … To the coffee-maker who has never felt so much job security … To my wife who receives me each day as I lumber through the door with the aroma of tuna salad wafting in behind me … But most of all to our glorious God and Saviour Jesus Christ who has given me strength to do all things for the glory of his Father and who gives us the grace to make 1 more, pack 1 more, close 1 more, order 1 more, and bless just 1 more lunch … I ask … Do it again.
Sterling Hunter leads the army of staff and volunteers who serve with FAC's Harvest Culinary Ministries. Read more about the bagged lunch partnership Harvest has been part of with our Community Impact team.
Want to know more about serving our city during the pandemic? Learn about ways to volunteer or give here.