Updated September 10, 2020
We're Ready When You're Ready!
This has been our perspective as our staff have strategized and prepared and prayed for the time when we'll gather together in person again. And after extensive meetings and planning and conversations and diligent research, we're ready and excited to welcome you back to our physical campuses this weekend! Like everything we're all experiencing these days, though we'll be back in a familiar physical space, much of what we do won't look or feel the same as it used to … But we want you to know that we're working hard to make each of our physical campuses of FAC not only a safe place to gather, but also a place to encounter the living God – to be challenged and encouraged in our relationship with Jesus Christ as we each continue to connect, grow, serve, and share as he directs us.
 So, are you ready?
Be sure to reserve your seat for the service you plan to attend; you can access our online registration for each weekend the Monday before, starting at 10:00 am. As we re-launch our in-person services, we'll do all we can to keep you informed; be sure to check the website for the latest developments going forward. And to give you a bit of insight right now into what you can expect as we gather in person again, be sure to check out the video specific to the campus you'll be attending.
What to Expect …
FAC Deerfoot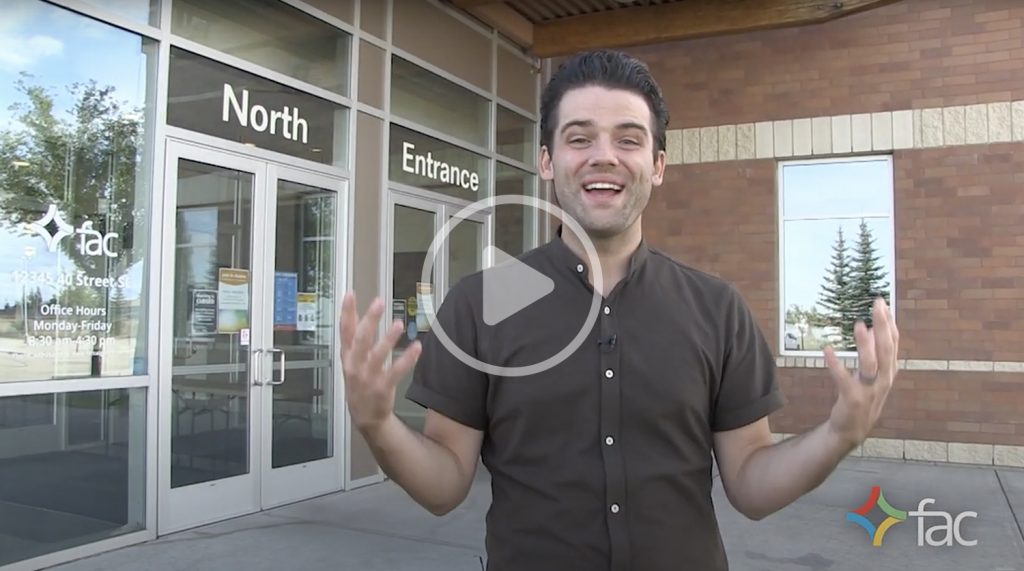 FAC Southwest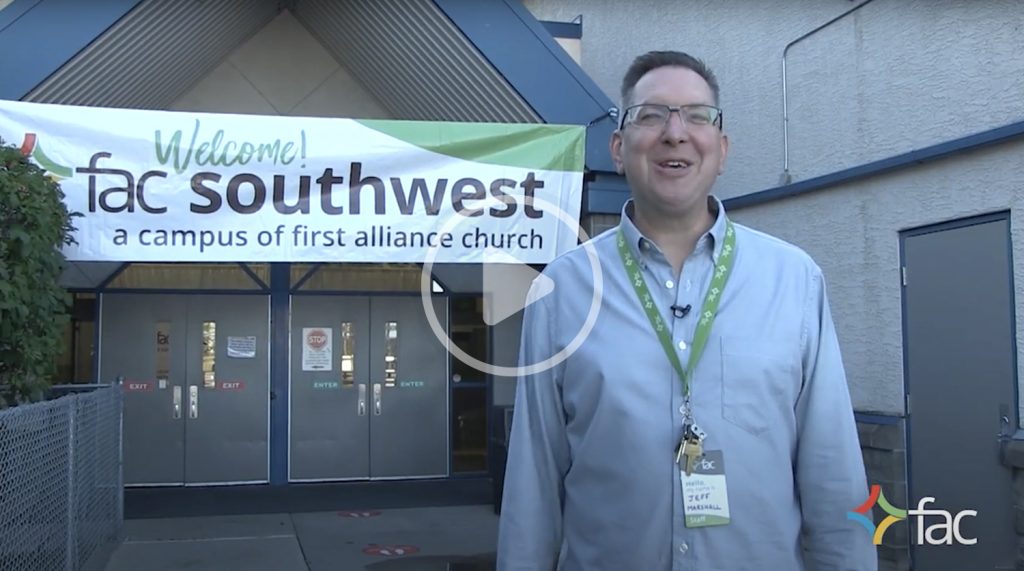 We can't wait to see you again!
Updated September 3, 2020
In-Person Re-launch
We have exciting news … September 12/13 is our on-campus re-launch weekend! In-person public worship services will resume at both the Deerfoot and Southwest campuses – and you're invited to participate.
We've continued to follow all public health recommendations and guidelines regarding COVID-19 to make FAC a safe environment to gather in person. You'll have the opportunity to reserve your seats in advance for the service you plan to attend, and we'll hold to safe limits on the number in attendance. As you enter, our touchless system will confirm your arrival, friendly ushers will help you find seats and maintain physical distancing, and a clean and sanitized facility will be waiting for you. Some things will be different but that will also provide a great opportunity for us to experiment with engaging worship formats. We want to be ready when you are ready to join with us.
At the same time our online campus will continue to broadcast on all platforms at the usual times. We want to serve you and those you love as best we can. Whether you feel able at this time to gather in person or not, we'll still join together as one large family to worship King Jesus.
As we enter this next phase of the journey we're excited about what God has in store for us. And I'm excited to see you again. Things may be challenging; not all of us feel ready to gather in person at this point; and doubtless we will face complexities. But in it all I am continually reminded that God is with us and he is for us. We continue to find new opportunities to serve our city and proclaim the Gospel. Jesus promised us that he is building his church! Nothing can prevail against him.
James Paton, Lead Pastor
Be sure to check the website often for the latest updates as we re-launch in-person gatherings – including how to reserve your seats in advance, and what to expect when you join us!
Updated July 9, 2020
Campus Re-Opening Update
Thank you for your generosity … It's been a remarkable season, a difficult time, and a time when we've been able to impact many lives in our city. Thank you for your faithfulness … Thank you for reaching out and being part of all that's been going in our church family in a wider setting. Because you continue to give, our teams of staff and limited numbers of volunteers have been able to pivot from established ministry efforts and ways of serving our city to new opportunities, new ways to be part of good work happening during this time of crisis.
We continue to watch and pray about what and when our next steps will be, what our summer and fall might look like. Many have asked about a baptism opportunity – that's something our teams are diligently thinking through.
We do have some tentative dates for re-opening our physical campuses for onsite gatherings – tentative because we're still waiting on government news, and waiting on some equipment to arrive – but there is a possibility that we may be able to start small in-person gatherings again on our physical campuses as soon as the weekend of September 12/13. As always, these decisions are firmly based on the learnings and guidance passed along by AHS, and we're aware the dates and parameters could shift. Regardless of how things roll out we are looking forward to what God has in store for us.
Updated June 26, 2020
Pray for SHS Local Missions
Pray for a team of FAC high school students and leaders serving locally June 29-July 4. They'll work with FAC's existing COVID-19 response partnerships serving those who are hurting and in need of food support – efforts such as the bag lunch program for kids, food hamper distribution with the Calgary Food Bank, and sorting donations and learning about homelessness with The Mustard Seed. Pray for unity and for the impact of the week on both the team members and those they get to serve.
Updated June 19, 2020
Positive Disruption is not only the title of our current teaching series; it's the reality we're living in. The amount of change we have experienced in the past 3 months has been monumental. The impact on each one of us personally has been challenging and the consequences considerable. Yet more change is on the horizon as we enter phase 2 of re-opening in our province. You have been waiting patiently – so let me try to explain where we are right now and what will happen next.
Some time ago I expressed to our staff team some principles and priorities that will guide how we navigate this change. Principles such as:
We seek truth:
"Jesus answered, "I am the way and the truth and the life. No one comes to the Father except through me." (John 14:6, NIV)
We seek the way of love:
"Jesus replied: "'Love the Lord your God with all your heart and with all your soul and with all your mind.' This is the first and greatest commandment. And the second is like it: 'Love your neighbour as yourself.' All the Law and the Prophets hang on these 2 commandments."" (Matthew 22:37-40, NIV)
We seek to serve:
"Sitting down, Jesus called the Twelve and said, "Anyone who wants to be first must be the very last, and the servant of all."" (Mark 9:35, NIV)
From these principles come our priorities:
• We will err on the side of public health and safety.
• We will err on the side of long-term thinking.
• We will err on the side of preparedness.
• To minimize mistakes, we will respect and heed the advice of experts.
Because your health matters most of all, we have engaged the professional advice of public health experts to help us navigate what it means to re-open several large facilities for large numbers of people. As we've worked through the government regulations, there are a number of processes and procedures we need to put in place, as well as equipment we need to purchase. Things like a registration system to book your seats and confirm attendance; signage to help you navigate your way safely while maintaining physical distancing on campus; PPE for all of our volunteers; and a rapid sanitation system to be used before and after services. Our logistics team are working diligently to have everything ready for your return.
We want to be ready for you when you feel ready to join us in person at either of our physical campuses. But things will be different. To keep our numbers within the allowable range, you'll have to book your seats in advance and sign in once you arrive. (That means being on time!) Children will have to remain with you in the auditorium and we hope to have limited DiscoveryLand capacity for those 2 and older in the near future. Masks will be encouraged. There will be no congregational singing as singing has been identified as a high-risk behaviour when it comes to spreading the virus – but humming along is permitted! Following the service, you'll be dismissed row by row. Unfortunately, we do not have the space for visiting on Main Street after the worship services.
Re-opening will be more of a process than an event and we probably all have our own personal timeline about when we'll feel comfortable being in a large crowd. For some, even with these limitations, just being with people again will be a huge draw. For others, this will feel less than ideal. This is why we are fully committed to investing in our online campus. Our weekend worship services and other resources will continue to be broadcast on our website, the FAC Experience app, Facebook Live, and YouTube.
It will take us some time to have everything ready and I'll do my best to keep you updated on our progress. Please know this: even as we wait, God is at work. People are saying yes to Jesus almost every weekend. Prayers are being answered. People experiencing homelessness are receiving shelter and hungry people are being fed. Our church has never been closed. We are God's people on mission – everyone, everywhere, all the time.
Pastor James Paton
Lead Pastor
Updated June 9, 2020
ALL FAC's Services Remain Online
The Premier has recently announced phase 2 of the relaunch process allowing places of worship to resume gathering – provided we operate within the prescribed AHS guidelines. FAC will continue to gather and connect online. The recent update includes several stipulations that would make it challenging for a congregation of our size and dynamic to be able to safely resume in-person gatherings at this time.
Please see link below for details.
LEARN MORE
Updated May 13, 2020
ALL FAC's Services Remain Online
Though AHS has recently released guidelines allowing places of worship to resume gathering in the near future, FAC will continue to gather and connect online. The recent update includes several stipulations that would make it impossible for a congregation of our size and dynamic to be able to safely resume in-person gatherings at this time.
One of the key issues is that the congregation would not be able to join in singing together … Imagine gathering together on campus with a live band onstage and singers livestreamed from other spaces – and having to fight the urge to sing along in worship!
The guidelines also specify requirements around safe physical distancing, maximum numbers, and cleaning and sanitizing common spaces, among other factors, that would make it impossible for us to protect the health of all in attendance. Please see link below for details.
LEARN MORE
My son, do not let wisdom and understanding out of your sight,
preserve sound judgment and discretion … (Proverbs 3:2)
---
Updated April 22, 2020
Reaching our Neighbours
FAC is supporting those in isolation or financial need by supplying emergency food hampers. If you would like to support this opportunity, you can donate through the COVID-19 fund line here.
Starting this Friday April 24, FAC will become a pick up location for food hampers through the Calgary Food Bank. This means that the food bank will do the intake work and their clients can come to the FAC for pick up on Tuesdays between 10-11:30 am or Fridays between 4-6 pm. FAC volunteers will be helping with assembly and handing out hampers through drive-in style (contactless) system.
Stuck at home and wondering what to do with your bottles? Donate your bottles towards the ministries of FAC. Free pickup available.

Lunch Program for Students In Need
Our bagged lunch program for kids has grown. We were serving 200 meals per week in Ogden. We are now able to serve 1,300 meals per week in Ogden (at Youth Centres of Calgary Ogden), Dover (at Ian Bazalgette School), and Forest Lawn (Patrick Airlie School). If you would like to support this opportunity, you can donate through the COVID-19 fund line here.
Ready to Get Involved?
Do you sew? Or maybe you have fabric you can donate for others to stitch up into masks or bags. If you have time, a sewing machine, or access to a few basic sewing supplies, why not consider being part of this important project?
Find the pattern and instructions for masks here. (Pattern/Instructions)
Watch a tutorial on making the masks here. (Watch Tutorial)
Get connected with the Facebook group for instructions and patterns to make scrub bags here.
(Scrub Bags for Alberta Health Care Workers)
Get in touch with the It's Sew Easy group at FAC to learn more about getting involved.
Completed masks and scrub bags can be dropped off Monday through Friday, 9:00 am-6:00 pm in marked bins placed at FAC's east entrance.
It may seem like a small thing … And it may seem like the need is too great for any one person to make a dent. And it may even seem like we're just doing what we've always done. But sometimes doing the same thing can achieve a different goal – sometimes that's what it looks like to serve in the name of Jesus … To become part of something much greater than ourselves – even when we're maintaining physical distance!
Latest from Alberta Health Services
---
Updated March 26, 2020
Join our ONLINE SERVICES this Weekend, Deerfoot and Southwest Campuses
Remain Closed
---
Updated March 24, 2020
---
Updated March 23, 2020
FAC partners with The Mustard Seed
---
Updated March 20, 2020
Trusting God when life turns upside down.
As followers of Jesus Christ, we know we're not alone; even in a time of great uncertainty, our God is faithful, He is present, He is not surprised. In the midst of a very legitimate concern this is an opportunity for us to serve those around us. There will be neighbours and friends who need hope and practical support. We can all show the love of Jesus by checking, picking up groceries, prescriptions, or other needed items. At the same time, there are those of us who find ourselves in need of help at this time. You're not alone; there are many others on a similar journey.
Where are you in your journey?
I CAN HELP
I NEED HELP
Support COVID-19 Response
---
Updated March 17, 2020
In light of the recent AHS restrictions on public gatherings we have made the decision to suspend public weekend services at the Deerfoot and Southwest campuses. Ouronline campus will continue to broadcast on both Facebook and our website faccalgary.com. We would encourage you to gather with your family or small group to worship together with us, albeit in a different format. Services will be broadcast at our usual service times, Saturday 6:30 pm and Sunday 9:15 am and 11:15 am.
The best way to receive regular updates from FAC will be through our FAC Experience app regular news. The app also has an online giving option which will help us to continue ministry operations. We will also post regular updates on our website.
In the midst of a very legitimate concern this is an opportunity for us to serve those around us. There will be neighbours and friends who need reassurance and practical support. We can all show the love of Jesus by checking in on those around us, perhaps going grocery shopping for them or picking up prescriptions if they're unable to go outside.
This weekend in our Stranger Things series we will look at another unusual story with an invitation to discover Jesus, even in our current chaos. God certainly spoke to me and opened my eyes as I prepared this message and I hope you can join me online.
I love the words of Psalm 121, especially with my view of the mountains driving to work: "I lift my eyes to the mountains – where does my help come from? My help comes from the LORD, the Maker of heaven and earth." God is with us!
Pastor James